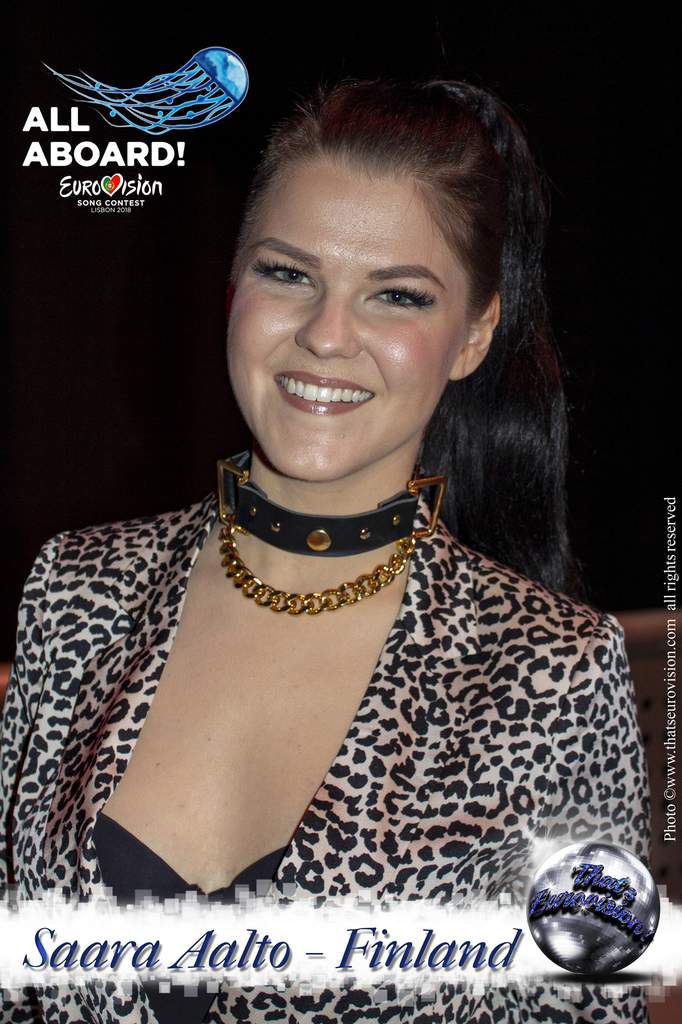 En Français please!
Saara Aalto représente la Finlande à Lisbonne, elle nous a accordé une interview pendant son passage à Amsterdam pour le 10ème anniversaire du « Eurovision in Concert ». Nous sommes tombés sous le charme !
That's Eurovision ! : Bonjour Saara, sois la bienvenue dans la grande famille Eurovision ! Tu vas représenter ton pays la Finlande, comment te sens-tu à cet instant ?
Saara Aalto : Je me sens bien, un peu fatiguée mais bien et excitée !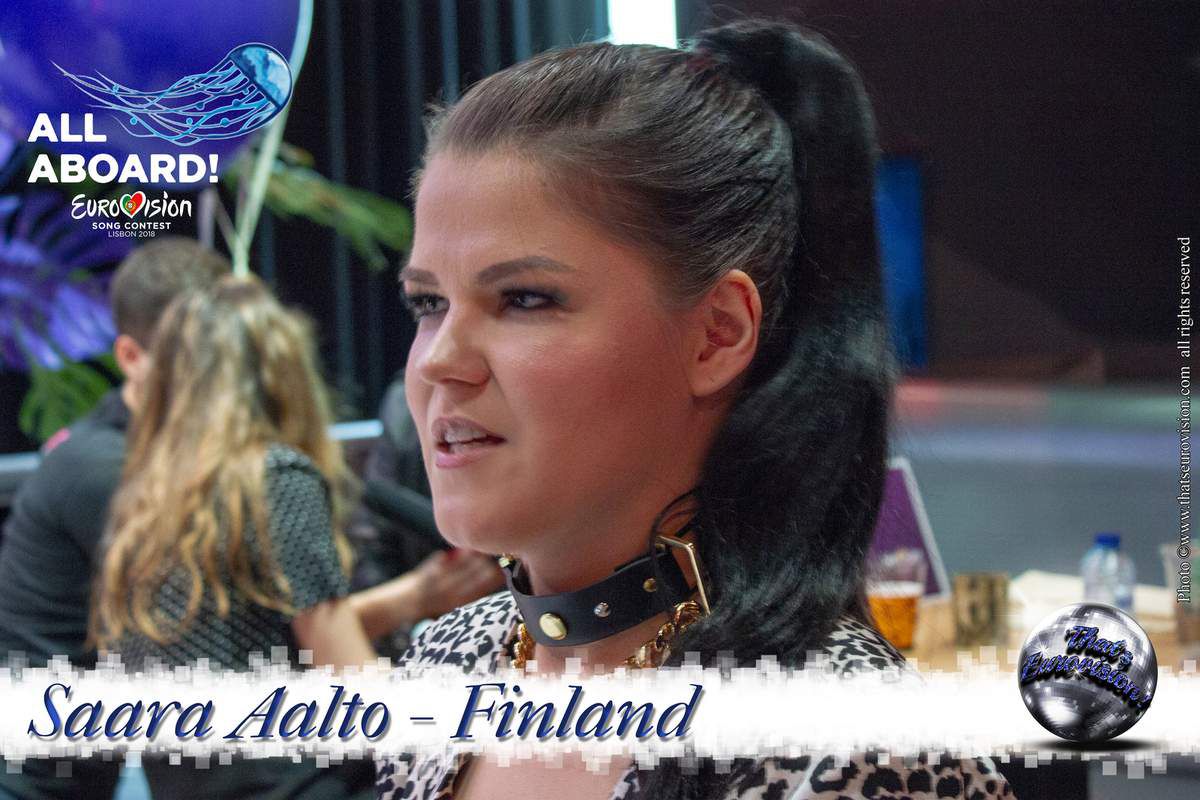 That's Eurovision ! : La musique a toujours fait partie de ta vie, peux-tu me raconter un peu ton parcours avant l'Eurovision cette année ?
Saara : Oh c'est une longue histoire, je suis chanteuse en Finlande depuis mes 19 ans, cela fait donc plus de 10 ans, j'ai publié plusieurs albums en Finlande puis tout a changé quand j'ai fait le X-Factor en 2016 au Royaume-Uni où j'ai terminé deuxième, ça a changé ma vie. Maintenant je vis à Londres et en Finlande, j'ai deux maisons, je vais aussi réaliser mon premier album international dans deux semaines, ce qui est génial. J'ai également été invitée à participer à l'Eurovision, j'ai déjà tenté cela à plusieurs reprises mais j'ai toujours terminé deuxième dans les sélections finlandaises, et me voilà, j'y suis enfin. Donc, ça a été un voyage fou pour moi mais fantastique !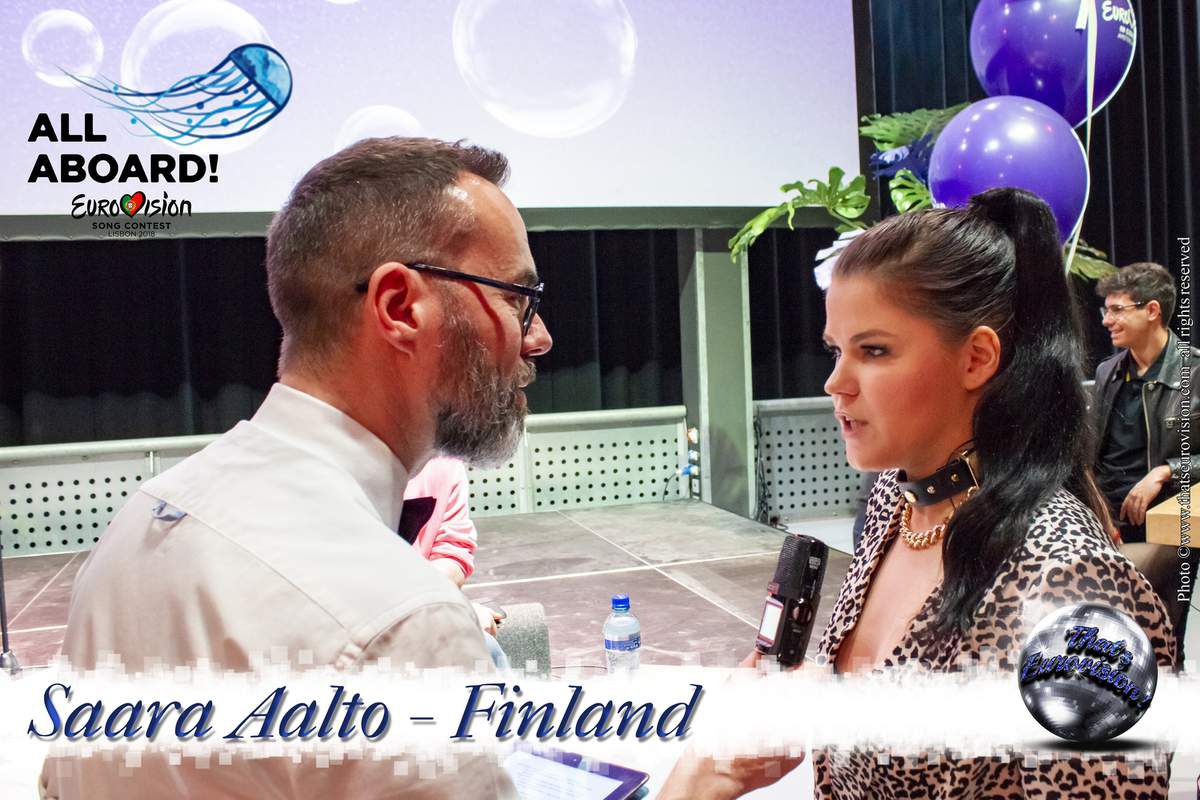 That's Eurovision ! : Concernant la chanson « Monsters », était-elle ta préférée et pourquoi ?
Saara : Hmm, non…je veux dire que je les aimais toutes mais je continue de penser que « Monsters » était le bon choix pour l'Eurovision, je le pense.
That's Eurovision ! : Parlons un peu de Saara, si tu pouvais rencontrer la petite fille que tu étais, que lui dirais-tu ?
Saara : Je lui dirais de faire ce qu'elle fait, ne laisse pas les attaques te ralentir et je lui dirais « tu vas te faire des amis, et tu trouveras des personnes qui t'accepteront, sois patiente et fais confiance à la vie ».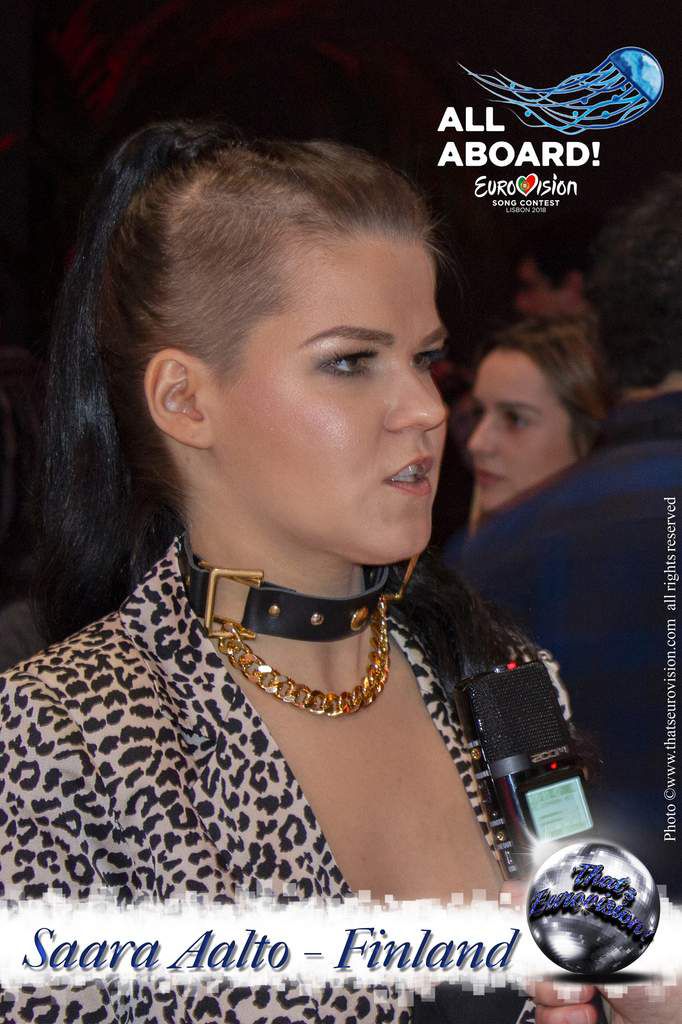 That's Eurovision ! : Je t'accorde un vœu, la possibilité d'enregistrer un duo avec l'artiste de ton choix, vivant ou décédé. Quelle serait la chanson et avec quel artiste ?
Saara : En fait, j'aime Adam Lambert ! J'ai chanté avec lui lors de la finale du X-Factor, mais j'aimerais enregistrer une chanson avec lui, une nouvelle comme un duo. Je l'espère un jour !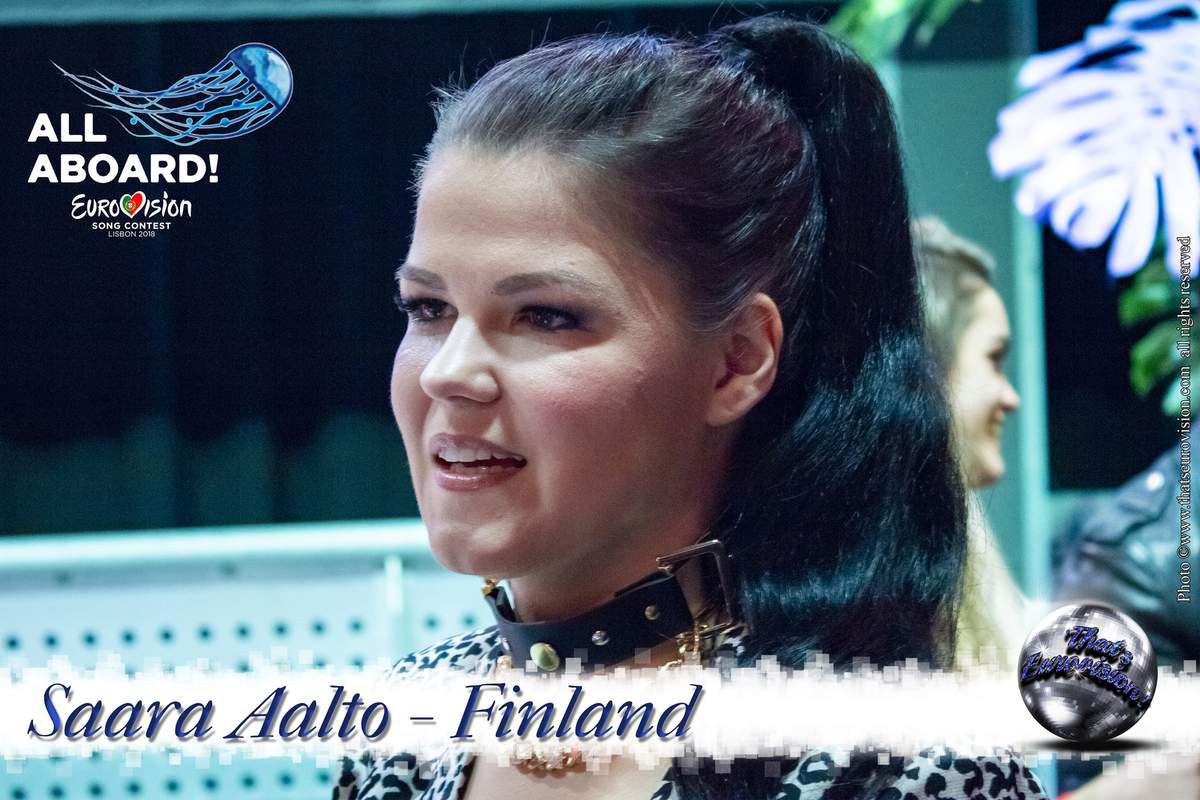 That's Eurovision ! : Comme je suis magicien, cette fois, je t'offre l'opportunité de faire tout ce que tu veux pendant 24 heures, il n'y a aucune limite. Que choisis-tu ?
Saara : Wow ! Quelle question… ! Je pense que j'aimerais voler. Je pense que je voudrais juste (elle respire profondément) bondir et voler, oui, superwoman ! Je voyagerais autour du monde, voler partout comme le Père Noël (elle éclate de rire).
That's Eurovision ! : Imagine que tu t'éveilles demain dans la peau d'un homme, que fais-tu ?
Saara : Je n'en sais rien ! Sans doute rien de particulier, mais peut être que je sortirais pour voir combien je suis fort ? Je n'en sais rien mais peut-être que les hommes ne sont pas si forts ?!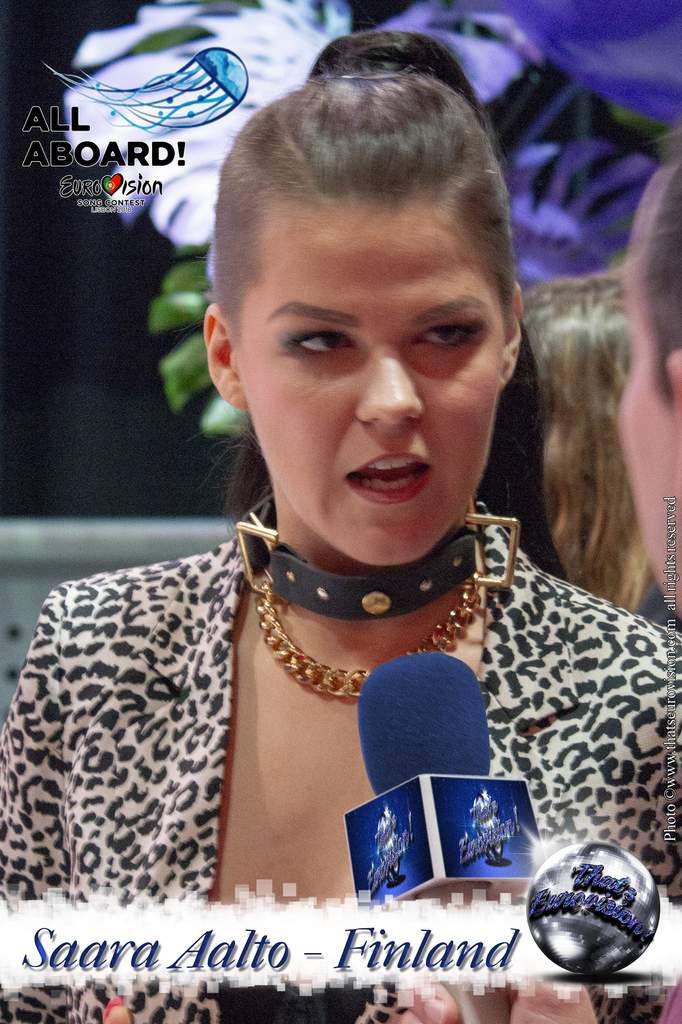 That's Eurovision ! : Qu'est-ce que la France t'inspire ? Et quel message souhaites-tu délivrer à nos lecteurs, en français peut-être ?!
Saara : Alors… J'aime la France et les Français, m'as-tu entendue chanter « Je Suis Malade » ? C'est…Wow, ma chanson préférée ! J'espère sincèrement que les Français aiment « Monsters », j'espère que la chanson va les inspirer et qu'elle va t'inspirer car elle parle de rester positif, de dire non à ces vieux monstres, ces vieilles choses négatives que les gens t'ont dites. Débarasse-toi d'eux et mène ta propre vie comme bon te semble. C'est un message très fort et j'espère que cela inspirera chacun, merci beaucoup pour votre soutien, merci beaucoup ! (en français)
That's Eurovision ! : Merci beaucoup pour cette interview, à bientôt à Lisbonne, tu es merveilleuse !
Saara : Oh merci (en français), à bientôt !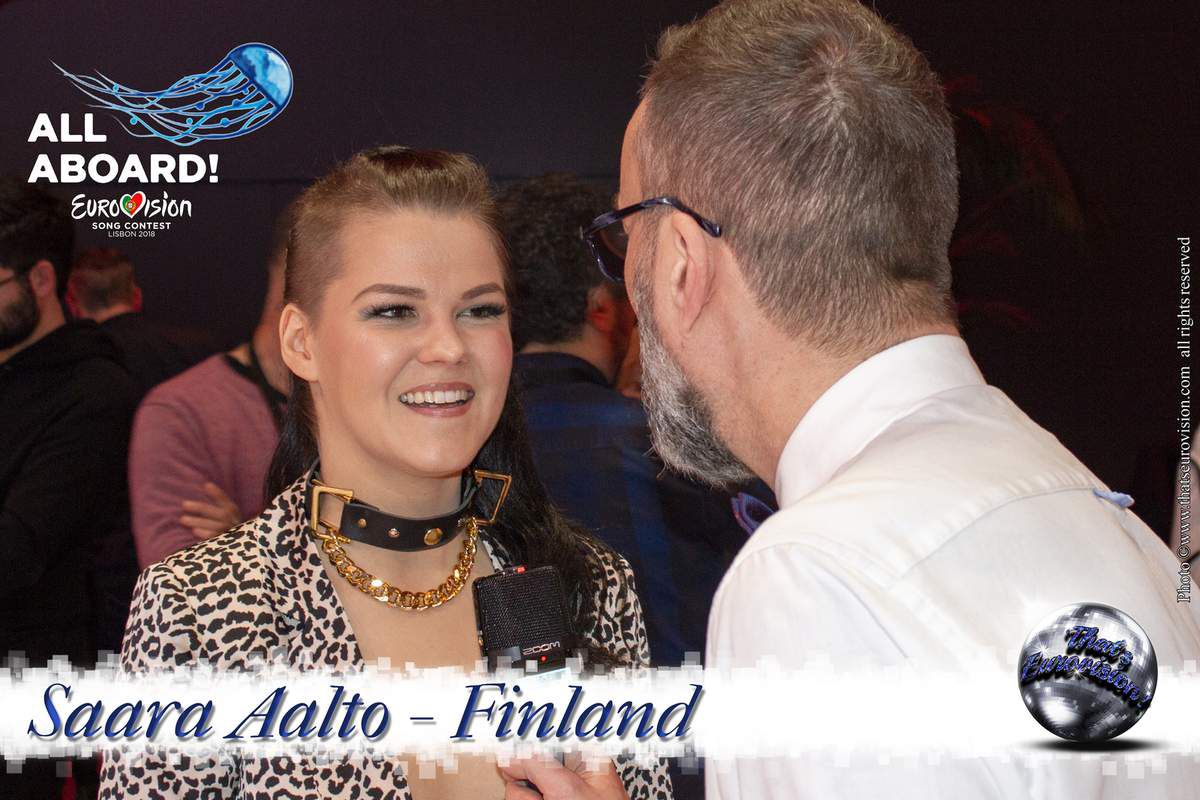 In English s'il vous plaît !
Saara Aalto represent Finland in Lisbon, she granted us with an interview during her trip to Amsterdam for the 10th anniversary of « Eurovision in Concert ». We are under her spell!
That's Eurovision ! : Hello Saara, welcome in the great Eurovision family! You will represent your country, Finland, how do you feel now?
Saara Aalto : I feel good, a little bit tired but good and excited !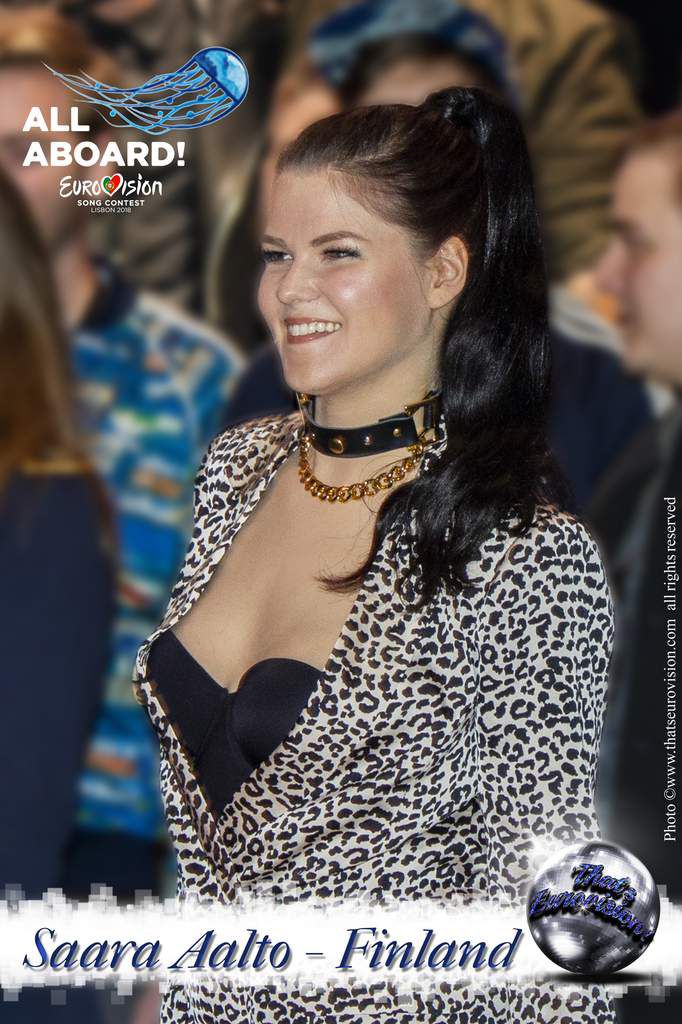 That's Eurovision ! : Music has always been part of your life, can you tell me a bit more about your path before stepping into Eurovision this year?
Saara : Oh it's a long story then, I've been a singer in Finland since I was 19, so like over ten years, and published many albums in Finland and then it all changed when I went to X-Factor UK in 2016 and came second in the competition. It changed my life. Now I live in London and in Finland, I have two homes and I'm just releasing my first international album in two weeks, which is great. And also I was invited to do Eurovision, cause I've tried Eurovision many times before but I always came second in the Finnish national finals, so now finally I'm here doing it. So it has been a crazy journey for me but very great !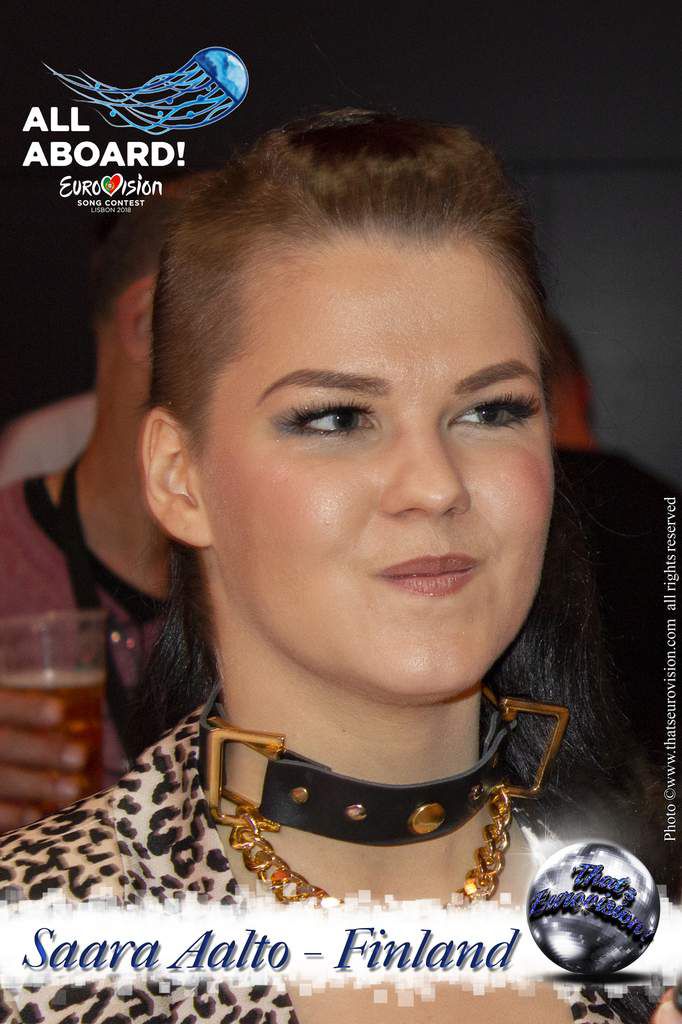 That's Eurovision ! : About the song « Monsters », was it your favorite one and why?
Saara : Hmm, no… I mean I liked all of them but I still think « Monsters » was maybe the right choice for Eurovision, I think so.
That's Eurovision ! : Let's talk a bit about Saara, if you could face the little girl you were before, what would you tell her?
Saara : I would tell her just to do what she's doing, don't let the bullies slow you down and I would tell her that « you are gonna find friends, and you are gonna find people around you who accept you, just be patient and trust life ».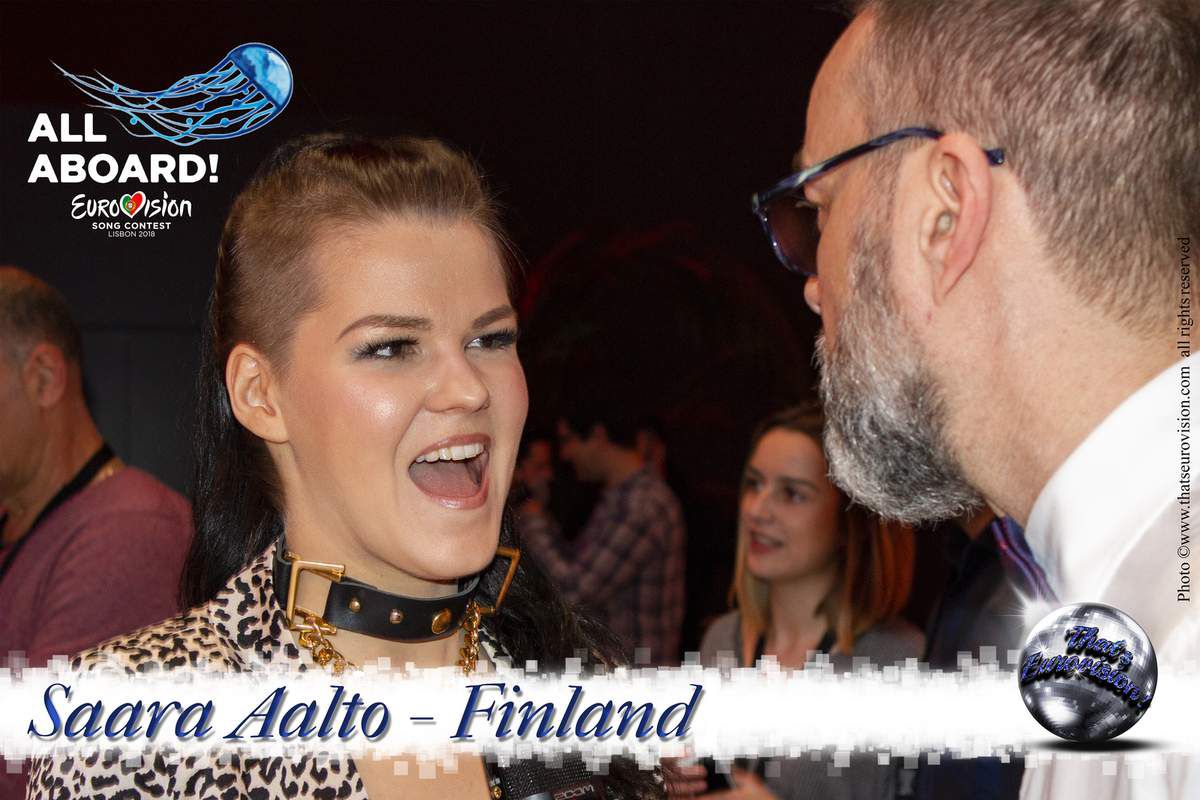 That's Eurovision ! : I grant you a wish, the possibility to record a duet with the artist of your choice, dead or alive. Which song will it be and who will you sing it with?
Saara : I… actually I love Adam Lambert! I sang with him on the X-Factor UK final, but I would want to record a song with him but I would want it to be a new song, like a single duet. So hopefully one day!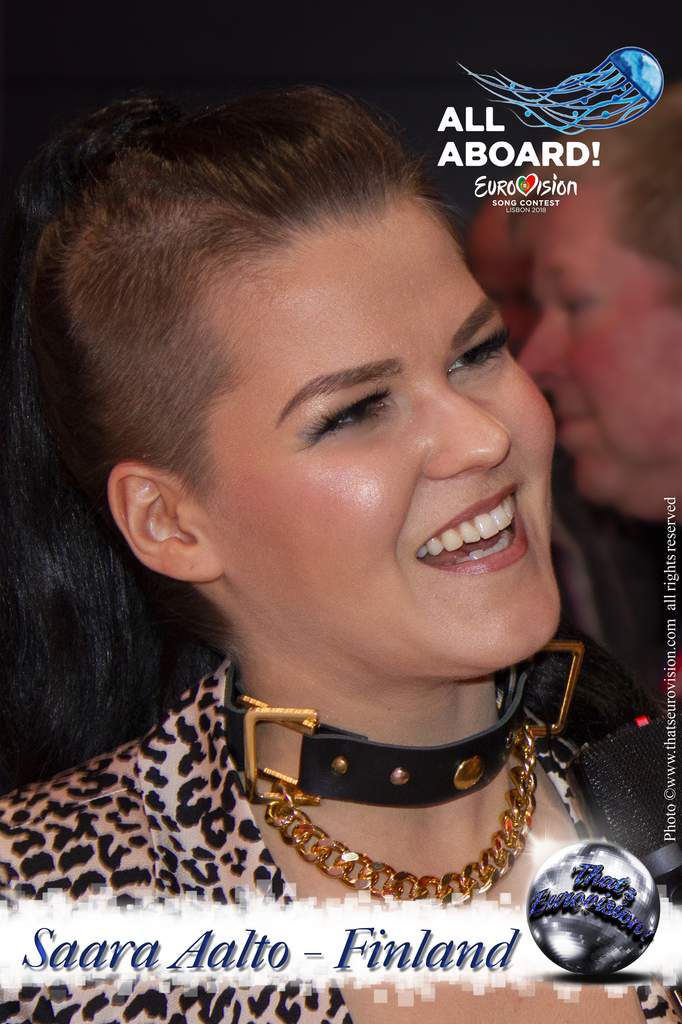 That's Eurovision ! : As I am a magician, this time, I give you the opportunity to do whatever you want for 24 hours, there's no limit. What will you choose to do?
Saara : Wow! What a question… ! I think I would fly. I think I would want to just (she breaths stronger) jump up and fly, yeah, superwoman! I would sailed the world, fly everywhere like Santa Claus (she bursts out laughing).
That's Eurovision ! : Suppose that you wake up tomorrow in a man's body, what will you do?
Saara : I don't know! Probably nothing different really, but maybe I would go out and try how strong I am? I don't know but maybe men are not that stronger?!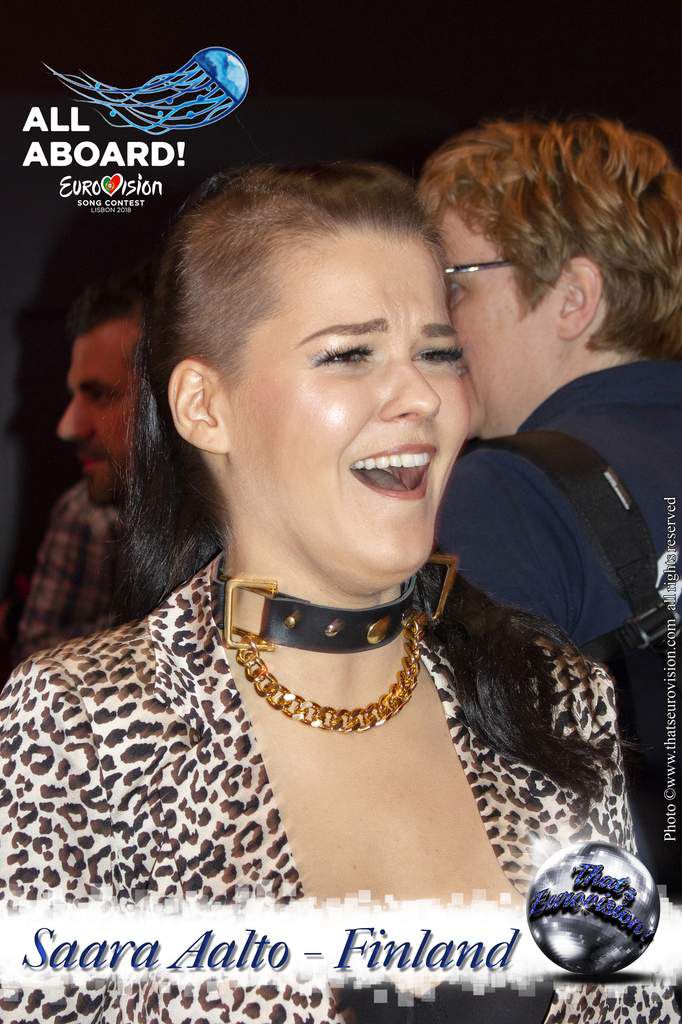 That's Eurovision ! : What does France inspire you? And what is the message you want to give to our readers, maybe in French?!
Saara : Alors… I love France and I love French, have you heard me singing « Je Suis Malade »? That's like Aah, my favorite song! I really hope French readers like « Monsters », I hope that the song inspires them and I hope that song inspires you because it's all about staying positive and saying no to those old monsters, old negative things that people have said to you. Just get rid of them and lead your own life and live your life how you want. It's a very stong message I hope it will inspire everybody, thank you so much for your support, merci beaucoup!
That's Eurovision ! : Thank you so much for this interview, see you in Lisbon! You are wonderful!
Saara : Oh merci, see you!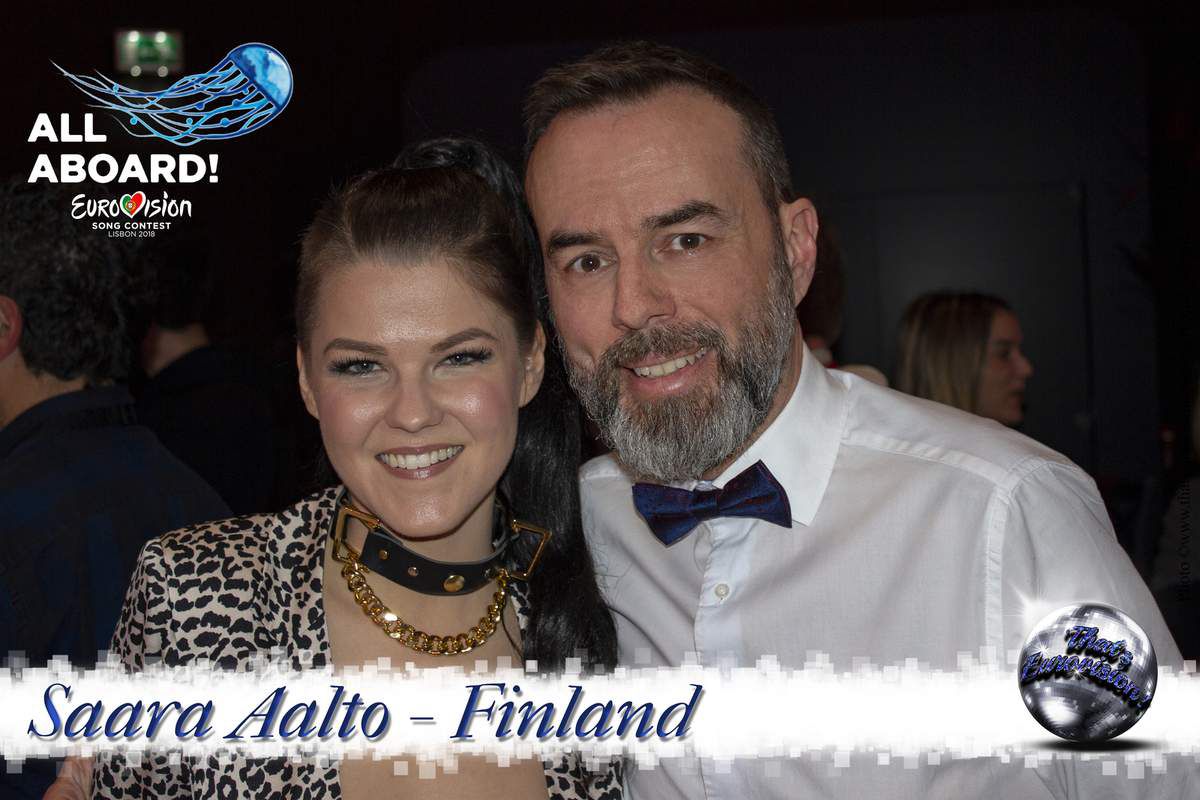 Photos & Présentation graphique : Ludovic PICAVET
Saara Aalto "Monsters" (Official Video)
Saara Aalto "Je Suis Malade" (Live)