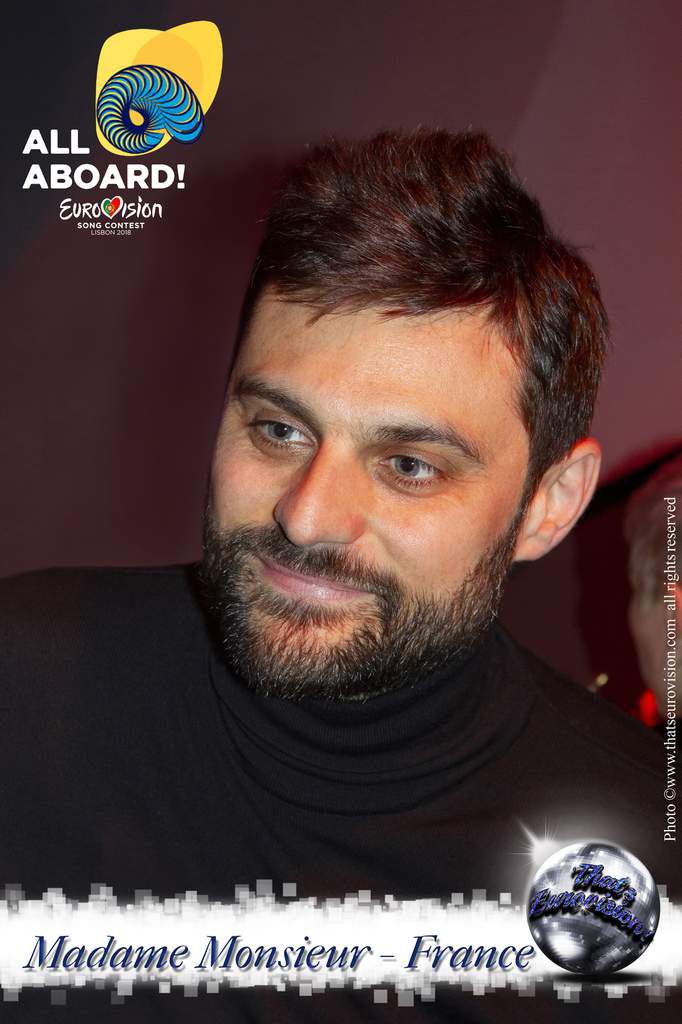 En Français please!
Nous avons rencontré Jean-Karl pendant la 10ème édition du « Eurovision in Concert » à Amsterdam. Monsieur, sans Madame répond à nos questions dans un face à face sincère.
That's Eurovision ! : Bonjour Jean-Karl ! C'est un réel plaisir de te rencontrer à nouveau ! Te voici à Amsterdam, à moins d'un mois du Concours Eurovision. Comment te sens-tu ?
Jean-Karl : En fait nous n'avons pas le temps d'anticiper les semaines qui viennent parce qu'il y a beaucoup de choses à faire, c'est très très intense. On essaye surtout de profiter du moindre instant parce que ça passe vite ! La finale c'est déjà dans un mois. Donc on essaye de vivre cette expérience à fond.
That's Eurovision ! : Comment a changé votre vie, privée et artistique, depuis l'annonce de votre victoire à « Destination Eurovision » ?
Jean-Karl : C'est certain que nos vies à Emilie et moi ont complètement changé, c'est évident. Nous n'avons pas changé nous, ni changé de vie non plus, mais par contre autour de nous tout a changé, mais nous avons également conscience que tout peut s'arrêter très vite aussi et donc encore une fois, nous vivons ça à fond, nous verrons comment cela se passera après.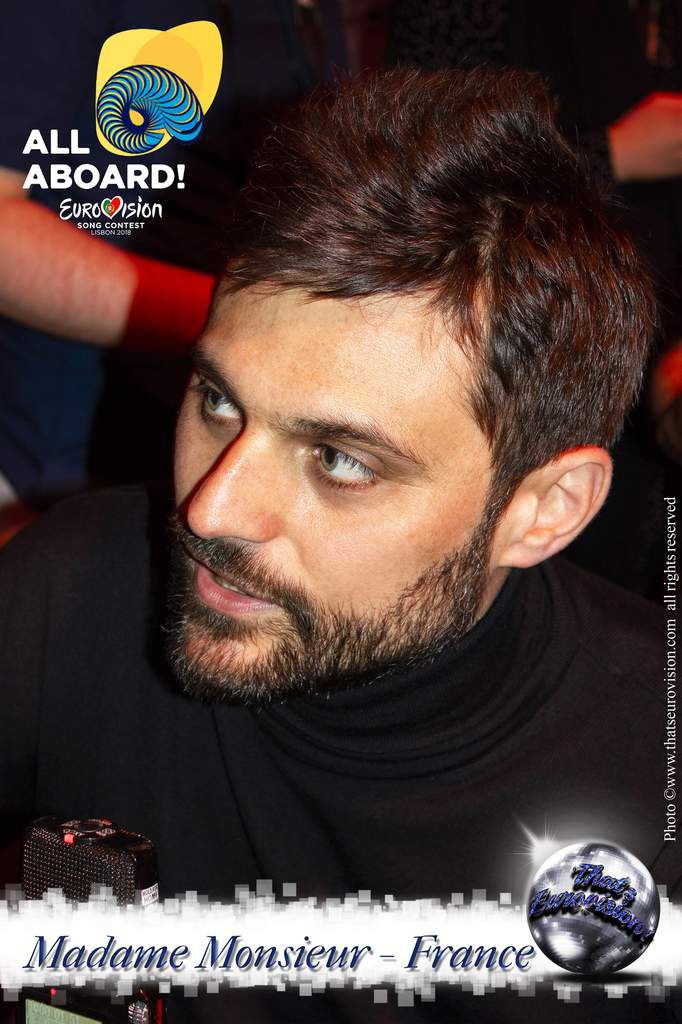 That's Eurovision ! : Avant tout ça, que représentait ce Concours pour vous ?
Jean-Karl : Il est certain que ce n'était vraiment pas quelque chose que l'on imaginait faire un jour dans notre vie, ça nous semblait totalement inatteignable. Ce n'était pas un plan de carrière, on ne s'était pas dit « un jour on va faire l'Eurovision ». Pour nous c'était vraiment un rendez-vous familial, j'ai des souvenirs de gamin où tout le monde regardait l'Eurovision. Et c'est vraiment ça, il y a un truc de l'ordre de la famille, tout le monde qui se réunit. Et c'est aussi ce que l'on est en train de vivre ici ! Avec tous les artistes nous vivons la même expérience en même temps. Il y a un peu un émerveillement, c'est un peu la grande colo, nous sommes dans le bus ensemble… c'est vraiment génial quoi !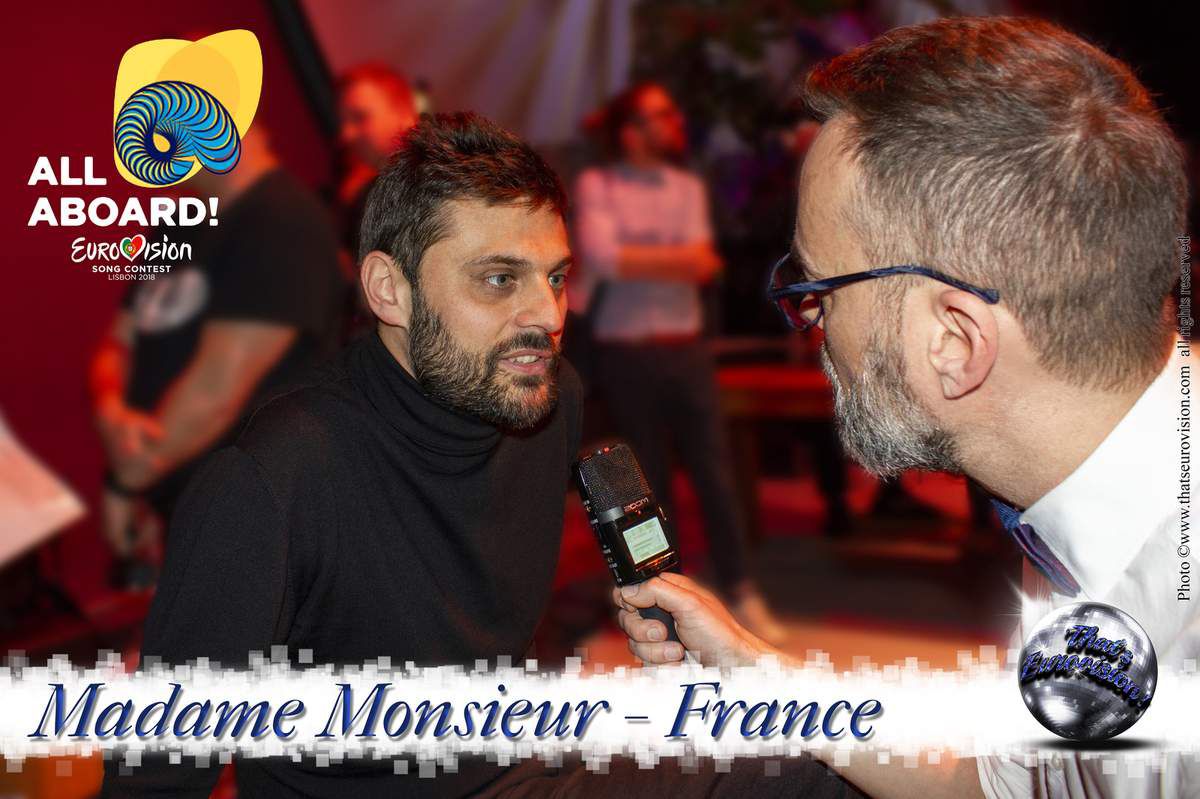 That's Eurovision ! : L'Eurovision, c'est un peu un marathon pour l'artiste qui représente son pays, comment appréhendez-vous ces 3 minutes devant plusieurs millions de téléspectateurs ?
Jean-Karl : Oui c'est clair, c'est beaucoup de temps en amont pour 3 minutes sur scène, mais encore une fois, au risque de me répéter, on ne se pose pas trop de questions, nous essayons de rester fidèles à ce que nous sommes, fidèles à la chanson aussi et de ne pas oublier ce pourquoi nous sommes là.
That's Eurovision ! : Nous connaissons tous l'histoire de « Mercy » à présent, il y a toujours autant de « face à face » aux « main dans la main », comment gardez-vous le contact avec SOS Méditerranée ?
Jean-Karl : Bien sur, c'est évident, nous avons tissé des liens importants avec eux parce que nous avons vécu ça ensemble aussi. Quand nous avons écrit la chanson, nous les avons contactés pour leur faire écouter, leur demander ce que l'on pouvait faire pour les aider éventuellement, et c'était bien avant qu'il soit question d'Eurovision. Nous avons donc vécu cette aventure ensemble aussi. Ils ont vécu à fond « Destination Eurovision », nous allons continuer à faire des choses ensemble et les aider autant que possible.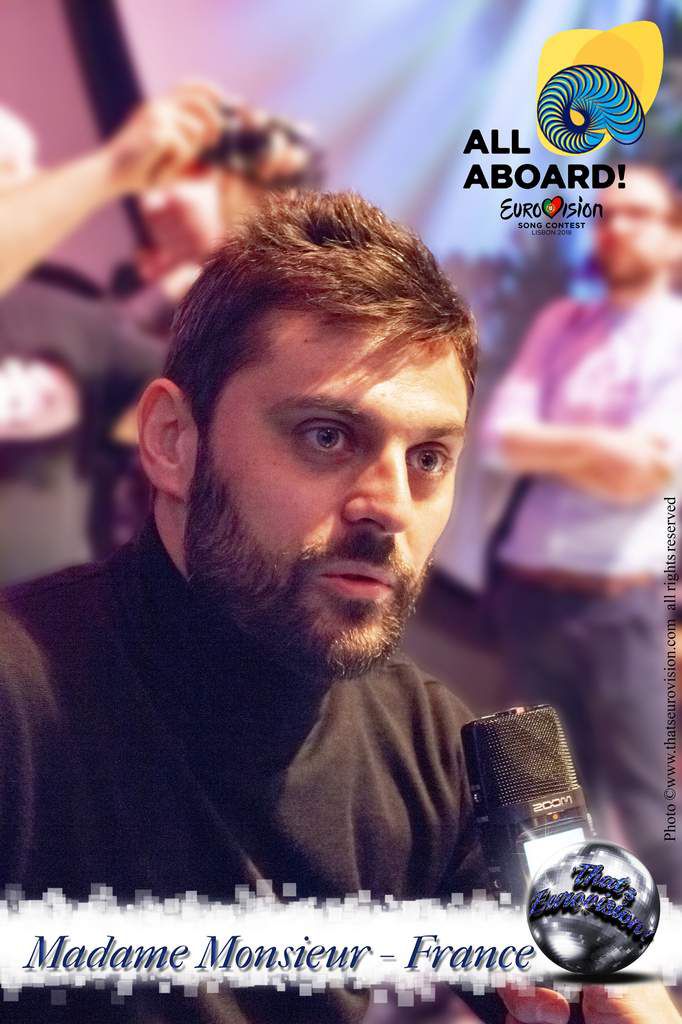 That's Eurovision ! : Emilie n'a pu se rendre ici à Amsterdam pour raisons de santé, nous avons appris que SuRie, la candidate pour le Royaume-Uni, va t'accompagner ce soir sur scène, comment cela s'est fait ?
Jean-Karl : Elle a été vraiment très sympa d'accepter, c'est une artiste talentueuse. Elle a appris la chanson en un temps record.
That's Eurovision ! : Dans quelques jours sort votre album « Vu d'Ici », comment se sentent les parents de ce premier bébé quelques jours avant ses premiers cris ?
Jean-Karl : Impatients ! Nous avons vraiment hâte qu'il sorte, nous sommes très fiers aussi, c'est un album sur lequel nous avons beaucoup travaillé, trois ans au total, trois ans de nos vies sur cet album. Nous avons également hâte de partir sur les routes pour rencontrer les gens qui nous ont soutenus depuis trois mois.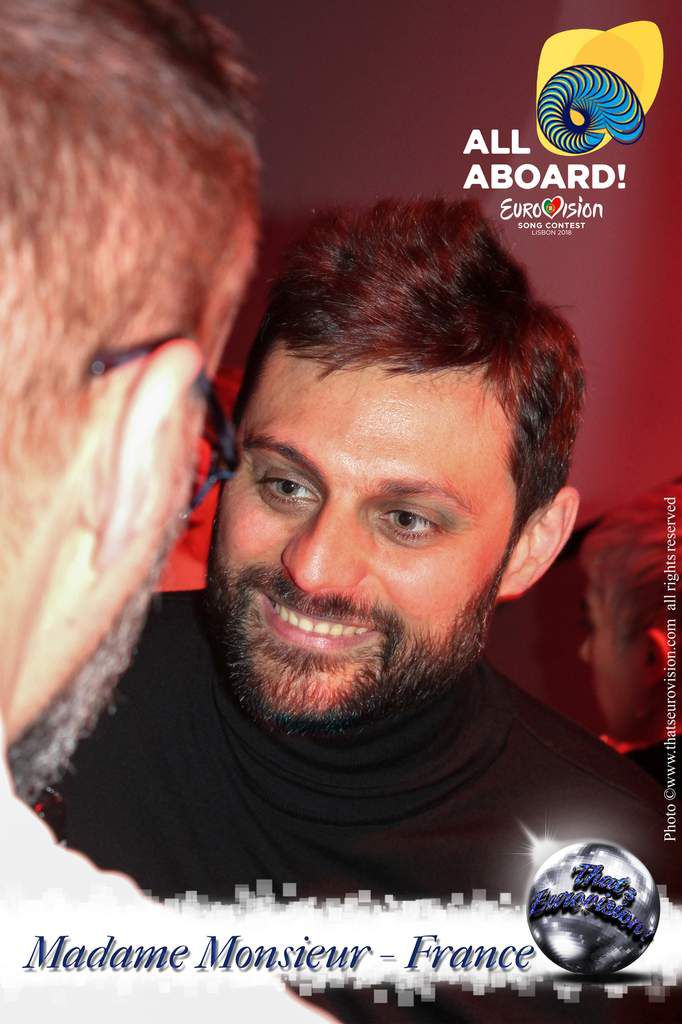 That's Eurovision ! : Revenons-en au Concours, à qui penserez-vous le 12 mai prochain en entrant sur la scène de l'Altice Arena de Lisbonne ?
Jean-Karl : On va penser évidement à Mercy… et on va penser à nous aussi.
That's Eurovision ! : A l'instar des sportifs, vous allez représenter tout un pays dans un Concours musical, quel message souhaitez-vous donner à ceux qui vous soutiennent en France et ailleurs ?
Jean-Karl : Oui ! Un immense merci pour tous les messages d'amour que vous nous envoyez, pour toute cette force que vous nous transmettez. Ca nous donne une pêche immense, une confiance incroyable, merci beaucoup d'être là !
That's Eurovision ! : Nous t'embrassons très fort, un prompt rétablissement à Emilie, à très vite à Lisbonne.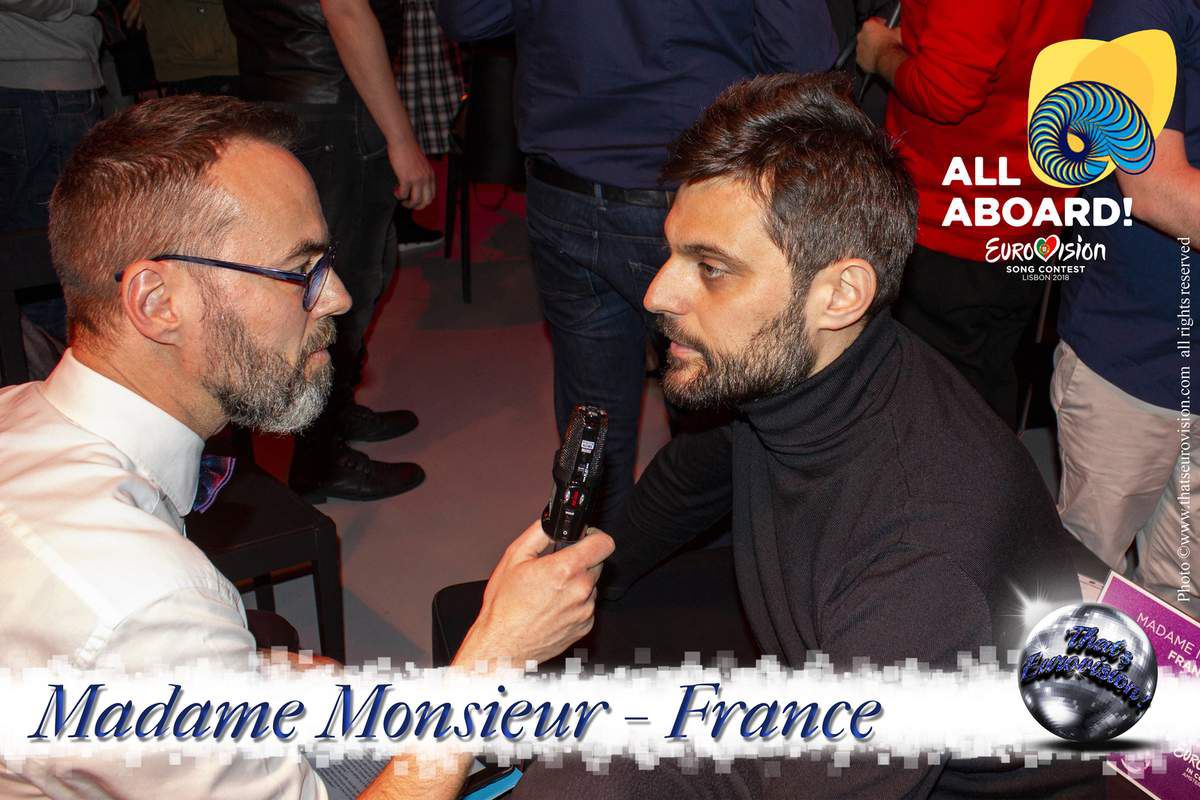 In English s'il vous plaît !
We met Jean-Karl during the 10th edition of « Eurovision in Concert » in Amsterdam. Monsieur, without Madame answers our questions in a face to face full of sincerity.
That's Eurovision ! : Hello Jean-Karl! It's a real pleasure to meet you once again! So you're here in Amsterdam, only one month before Eurovision. How do you feel now?
Jean-Karl : To be honest, we don't have time to anticipate the following weeks because there is so much to do, this is really intense. We try as much as we can to enjoy every moment because it goes so fast! The final is already in one month. So we try to live this experience intensely.
That's Eurovision ! : How did your private and artistic life change since your victory in « Destination Eurovision »?
Jean-Karl : It is true that our lifes, Emilie and I, have completly changed, it's obvious. We did not change ourselves, our life did not change either, but everything around us has changed, we are also conscious that everything can stop very fast and this is why once again we want to live all this intensely, we will see later what will happen.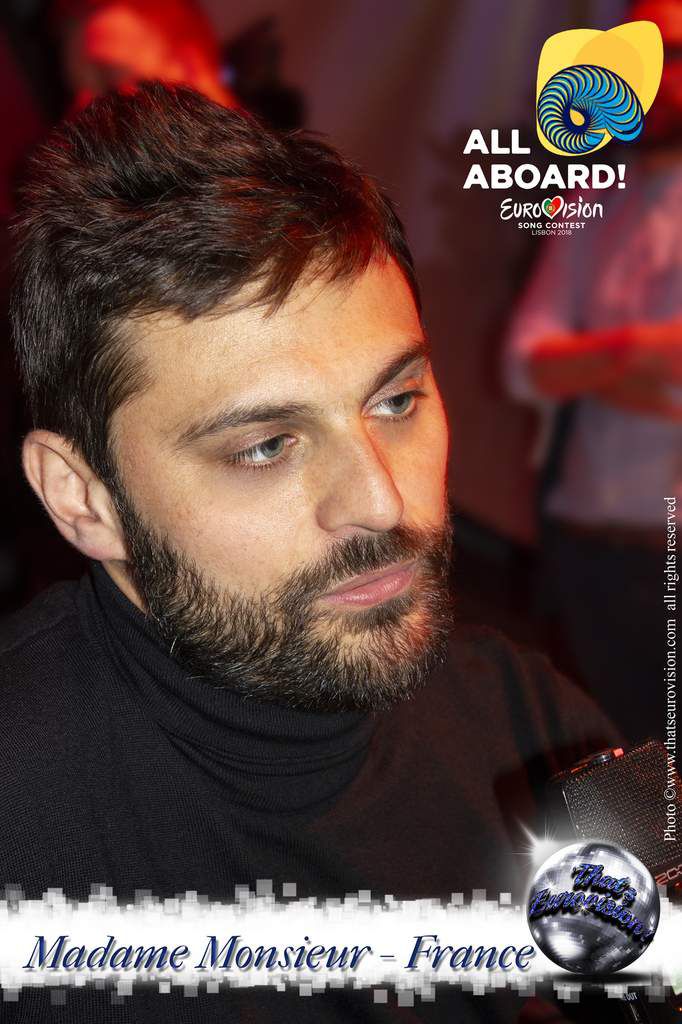 That's Eurovision ! : Before all that, what did Eurovision represent to you?
Jean-Karl : It is sure that we would not have imagined doing it one day, it seemed quite inaccessible. It wasn't a « career strategy », we didn't wake up one day telling us « Let's do the Eurovision ». For us, it was a family rendez-vous. I got kid's memories where everybody was watching Eurovision. And this is really like that, there's something to do with the family, everybody join for it. This is also what we are living right now here! With all the artists we are living the same experience all together. There is a kind of wonder, it's quite a big summer camp, we share the same bus together… it's really awesome!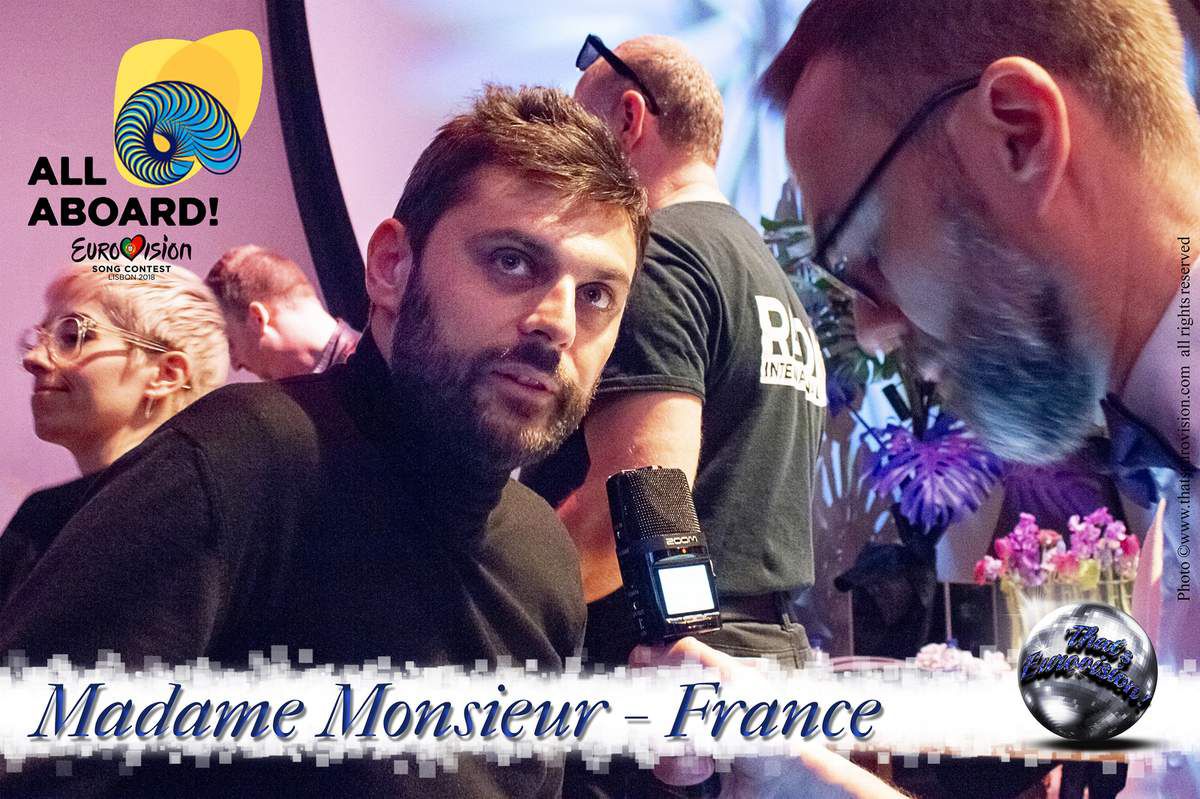 That's Eurovision ! : Eurovision is like a marathon for the artist which represents his/her country, how do you feel apprehensive about those 3 minutes in front of millions of TV viewers?
Jean-Karl : Yes, it's a lot of time for just 3 minutes on stage, but once again I'm repeating myself, we don't ask us too many questions, we try to be faithful to ourselves, faithful to the song and not to forget the reason why we are here.
That's Eurovision ! : Now we all know the story of « Mercy », there's still so many « face to face » v/s « hand in hand », how do you manage to keep contact with SOS Méditerranée?
Jean-Karl : Of course, it's obvious, we got closer to them because we lived this adventure together. When we wrote the song, we contacted them to present it, to ask how we eventually could help them, and it was long before it was matter of Eurovision. We lived this adventure together. And they lived « Destination Eurovision » intensely, we will go on working together and helping them as much as we can.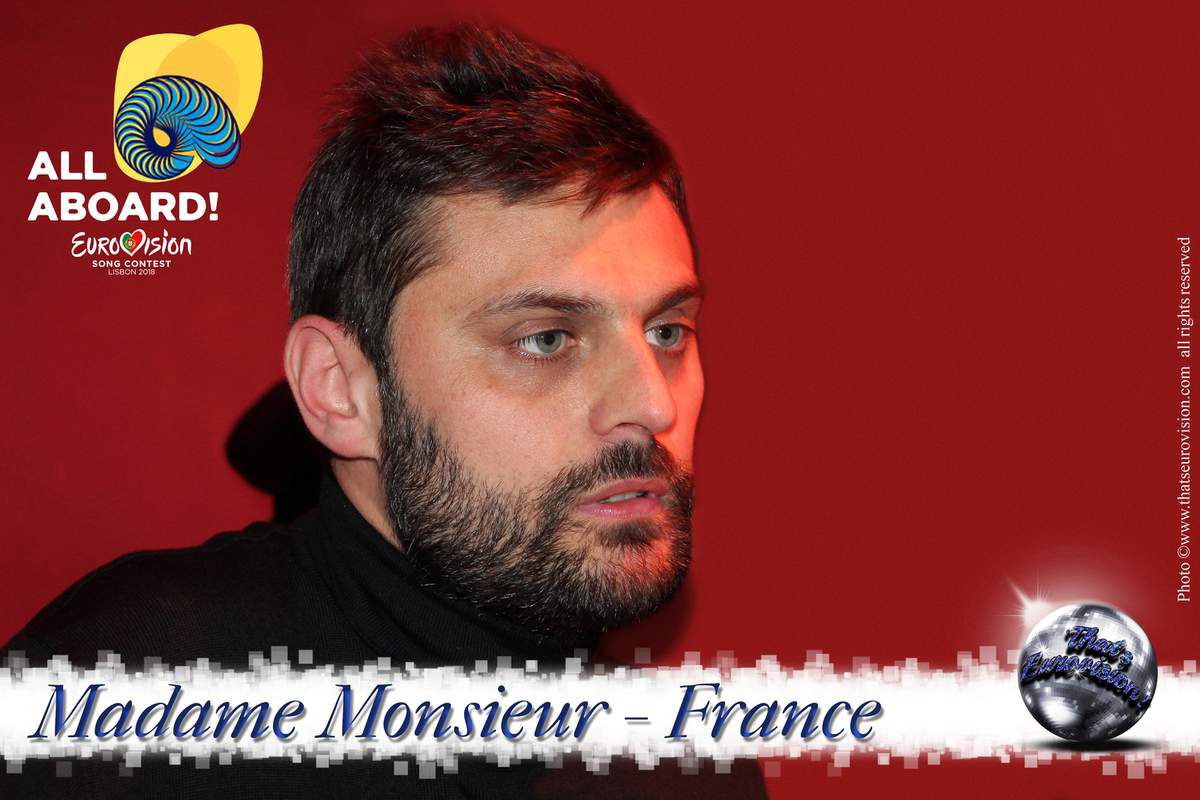 That's Eurovision ! : Emilie couldn't be present here in Amsterdam due to health reasons, we learned that SuRie, the UK candidate, will join you on stage tonight, how did this happen?
Jean-Karl : She was really nice to accept, she's a talented artist. She learned the song as quick as a wink.
That's Eurovision ! : Your album « Vu d'Ici » will be out in a few days, How do the parents of this first baby feel a few days before its first cries?
Jean-Karl : Impatient! We really are in a hurry that it is out, we are also very proud, this is an album for which we worked a lot, three years to be exact. We also are impatient to tour to meet the people who supported us for three months.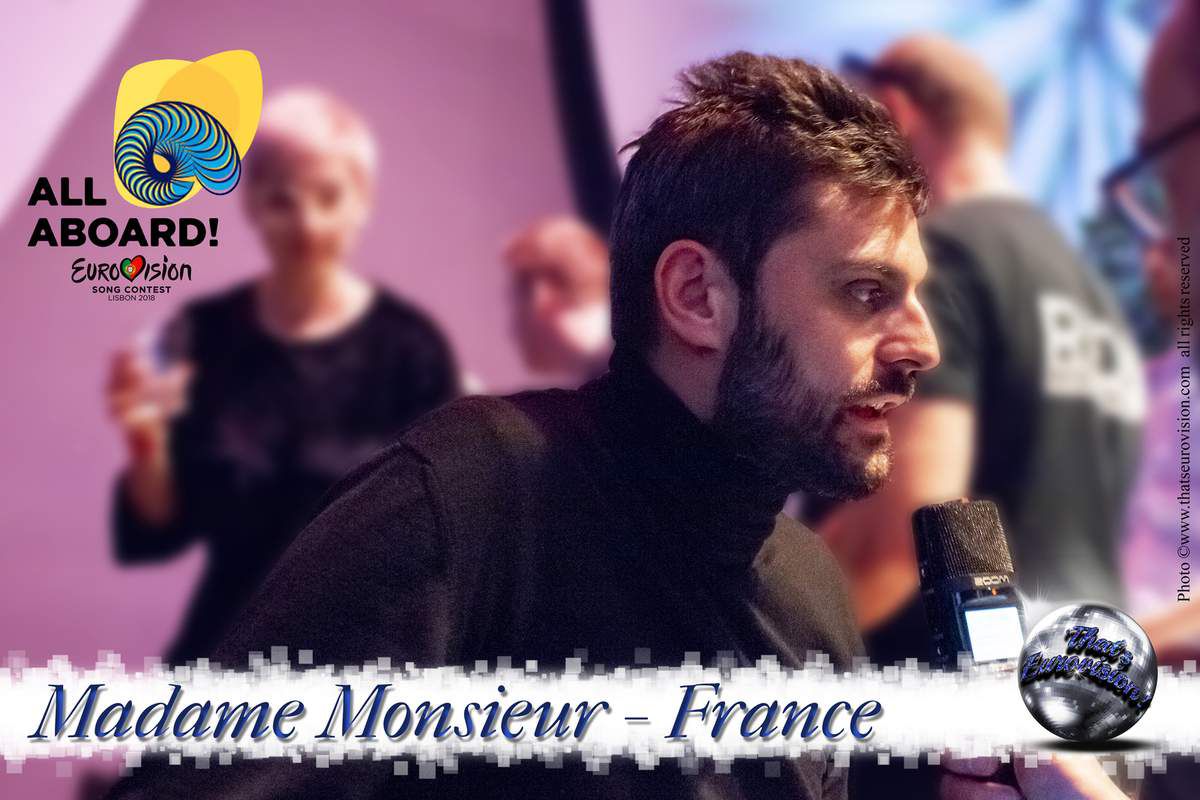 That's Eurovision ! : Let's go back to the Contest, who will you think of next May 12nd before entering the Altice Arena stage in Lisbon?
Jean-Karl : We will of course think of Mercy… and we also will think of ourselves.
That's Eurovision ! : Like sportsmen, you will reprensent a whole country in a musical Contest, what is the message you want to give to those who support you in France or anywhere else?
Jean-Karl : Yes! A huge thank you for all the messages of love you send us, for all this strength you transmit us. It gives us such a power, an incredible confidence, thank you so much for being there!
That's Eurovision ! : Big kisses to you, we hope Emilie will quickly be better, see you very soon in Lisbon.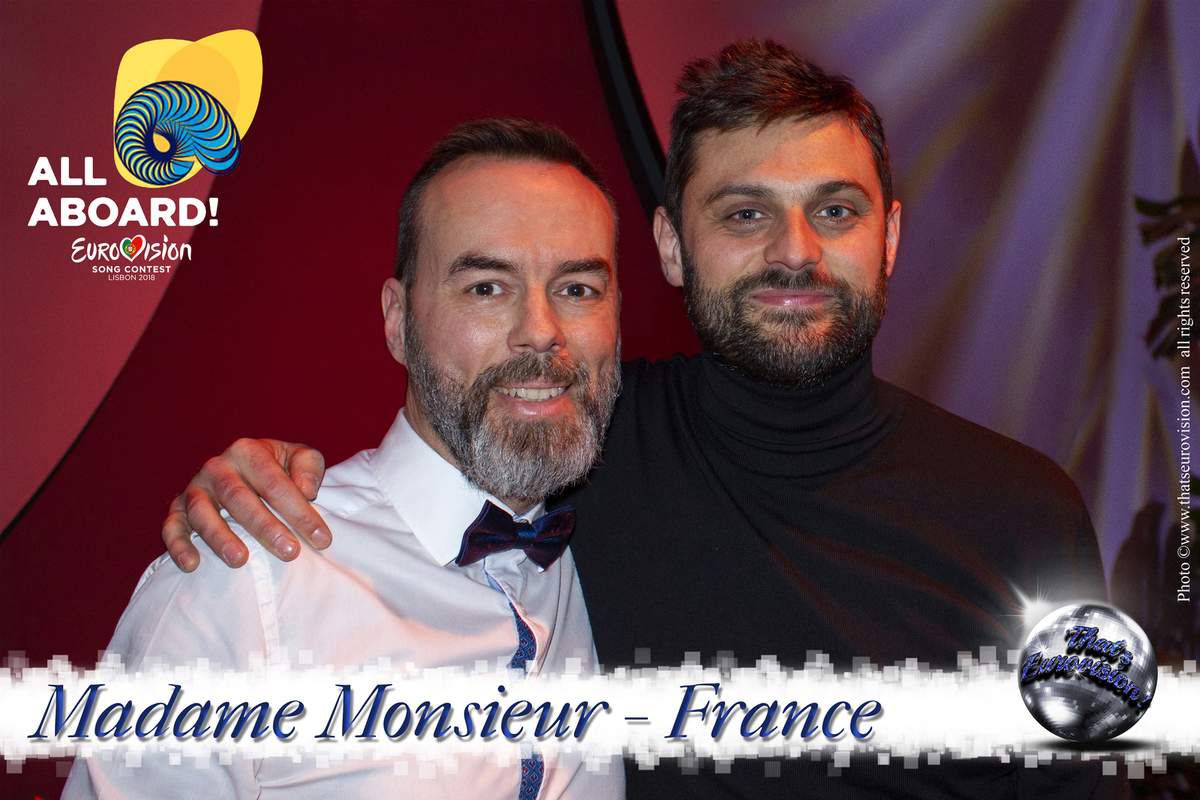 Photos & Présentation graphique : Ludovic PICAVET