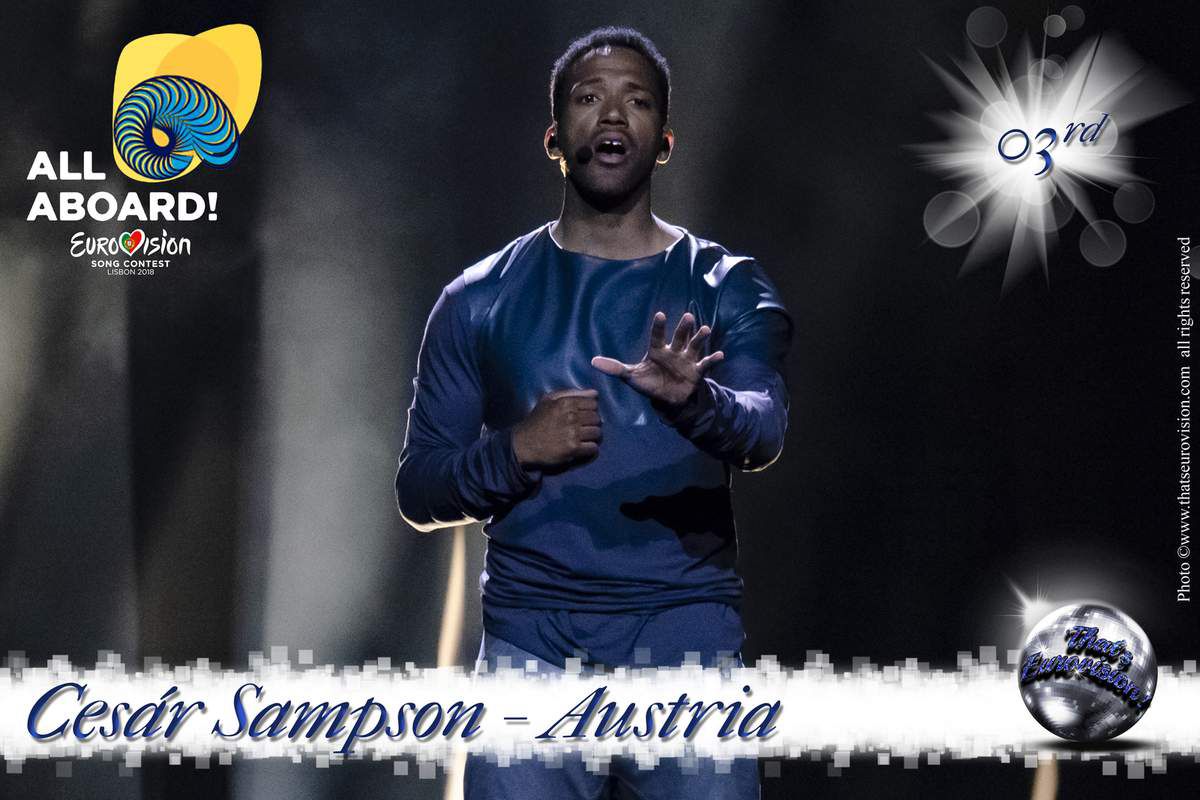 En Français please!

L'Autriche n'a pas souvent été à la fête au Concours Eurovision en termes de bons résultats malgré deux victoires à ce jour.
Udo Jürgens en 1966 avec « Merci Chérie » et plus récemment Conchita Wurst en 2014 avec « Rise Like a Phoenix » ont remporté la victoire pour leur pays.
En dehors de ces deux médailles d'or, il aura fallut attendre cette édition 2018 pour voir le pays monter à nouveau sur le podium.
Cesár Sampson doit son excellente place aux votes du jury professionnels. Il aurait d'ailleurs remporté le Concours sans l'ajout des votes du public.
L'Autriche a terminé 3ème avec 342 points.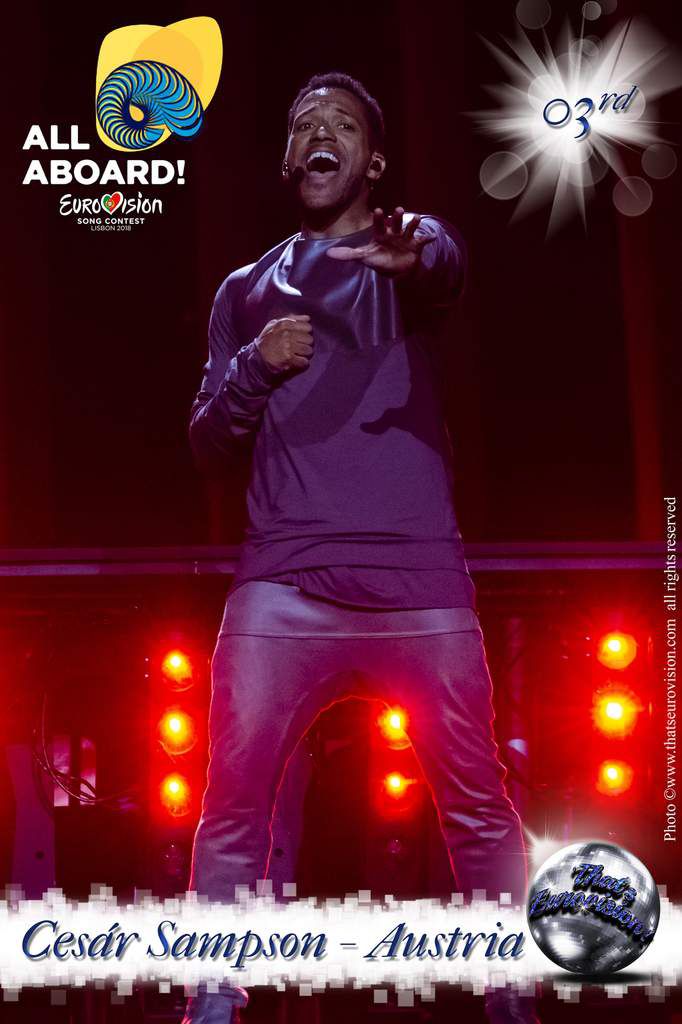 In English s'il vous plaît !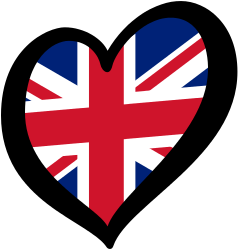 In terms of good results, Austria has not often shone in the Eurovision Song Contest even it they obtained two victories to date.
Udo Jürgens in 1966 with « Merci Chérie » and more recently Conchita Wurst in 2014 with « Rise Like a Phoenix » grabbed the victory for their country.
Apart from those two gold medals, we had to wait for this 2018 edition to see the country stepped once again on the podium.
Cesár Sampson obtained his excellent position thanks to the votes of the professional jury. He even should have won the Contest without the public votes.
Austria ended 3rd with 342 points.
Photos : Alain DHALLEWIN
Présentation graphique : Ludovic PICAVET
Lord, I'm gonna get so high tonight
I'm gonna let the floodgates open wide
I'm in open water, this is what I need
Though I try to get you off my mind
And I get no sleep
I'm in too deep
I can't let you leave
It wouldn't be right letting you go running away from love
Ain't nobody but you I can hold onto
So am I right giving my all making you stay tonight?
Ain't nobody but you (Ain't nobody) I can hold onto (Ain't nobody)
Oh oh
Oh oh
Hey Lord, I'm gonna bring you back tonight, girl
Oh, you're running circles round my mind
After your words have been my bible
How can I search for someone new?
While I really want you by my side
And I get no sleep
I'm in too deep
To let you leave
It wouldn't be right letting you go running away from love
Ain't nobody but you (Ain't nobody) I can hold onto (Ain't nobody)
So am I right giving my all making you stay tonight?
Ain't nobody but you (Ain't nobody) I can hold onto (Ain't nobody)
Don't make me tear my heart out (Oh oh)
I'm shaking till I fall down (Oh oh)
Don't make me tear my heart out (Whoa, ain't nobody but you)
Don't make me tear my heart out (Oh oh)
I'm shaking till I fall down (Oh oh)
Don't make me tear my heart out
It wouldn't be right letting you go running away
Ain't nobody but you I can hold onto
So am I right giving my all making you stay tonight?
Ain't nobody but you (Ain't nobody) I can hold onto (Ain't nobody)
It wouldn't be right letting you go running away from love
Ain't nobody but you (Ain't nobody) I can hold onto (Ain't nobody)
Ain't nobody but you