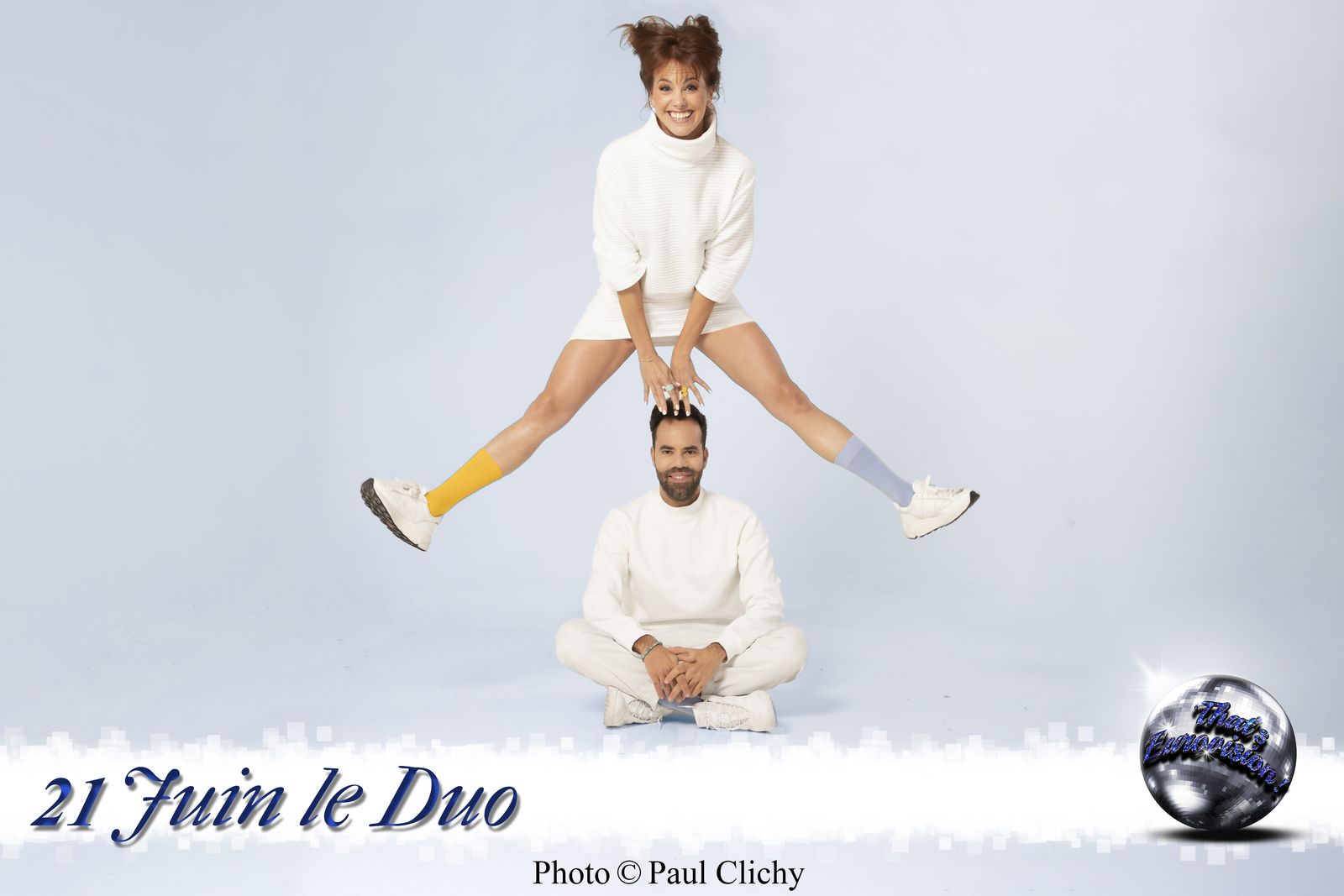 We propose you to discover Manon and Julien : 21 Juin le Duo, in the interview they accepted to give us.
Their song for « Eurovision France – c'est vous qui décidez ! » is « Peux-tu me dire ? ».
With good mood and laughs, the duet raises our awareness that we only have one planet, that it's time to reconnect with Earth, to reconnect with each other.
Interview made January 26th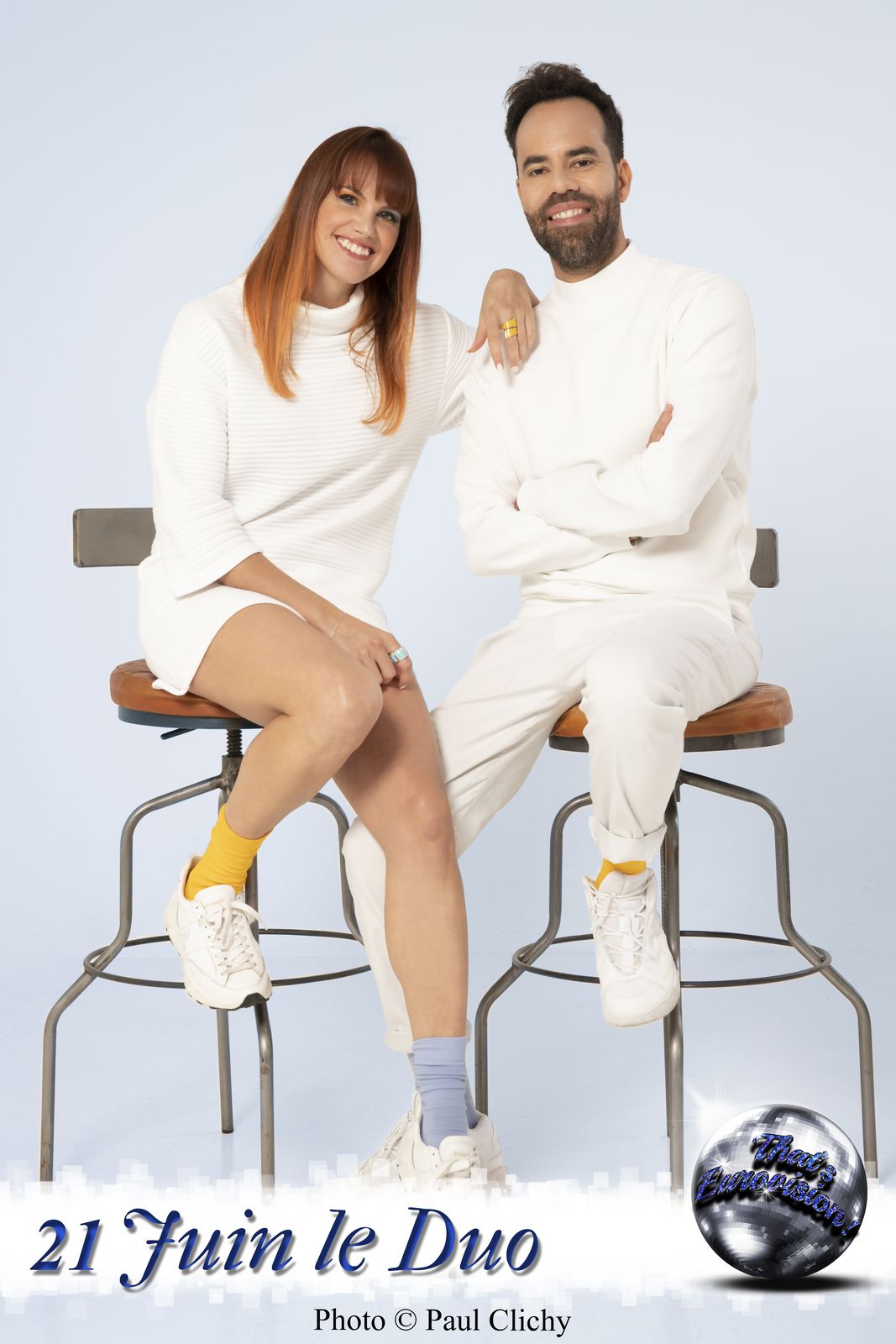 That's Eurovision ! : Hello Manon, hello Julien. Welcome in the great Eurovision family! Thanks for accepting this interview!
Manon : Thank you very much!
That's Eurovision ! This last week must have been pure madness? How do you feel a few hours before the big show?
Manon : Yes! We rehearse every evening!
Julien : We don't stop running… and that's fine! We feel tired, we feel excited, it's a mix of all that actually…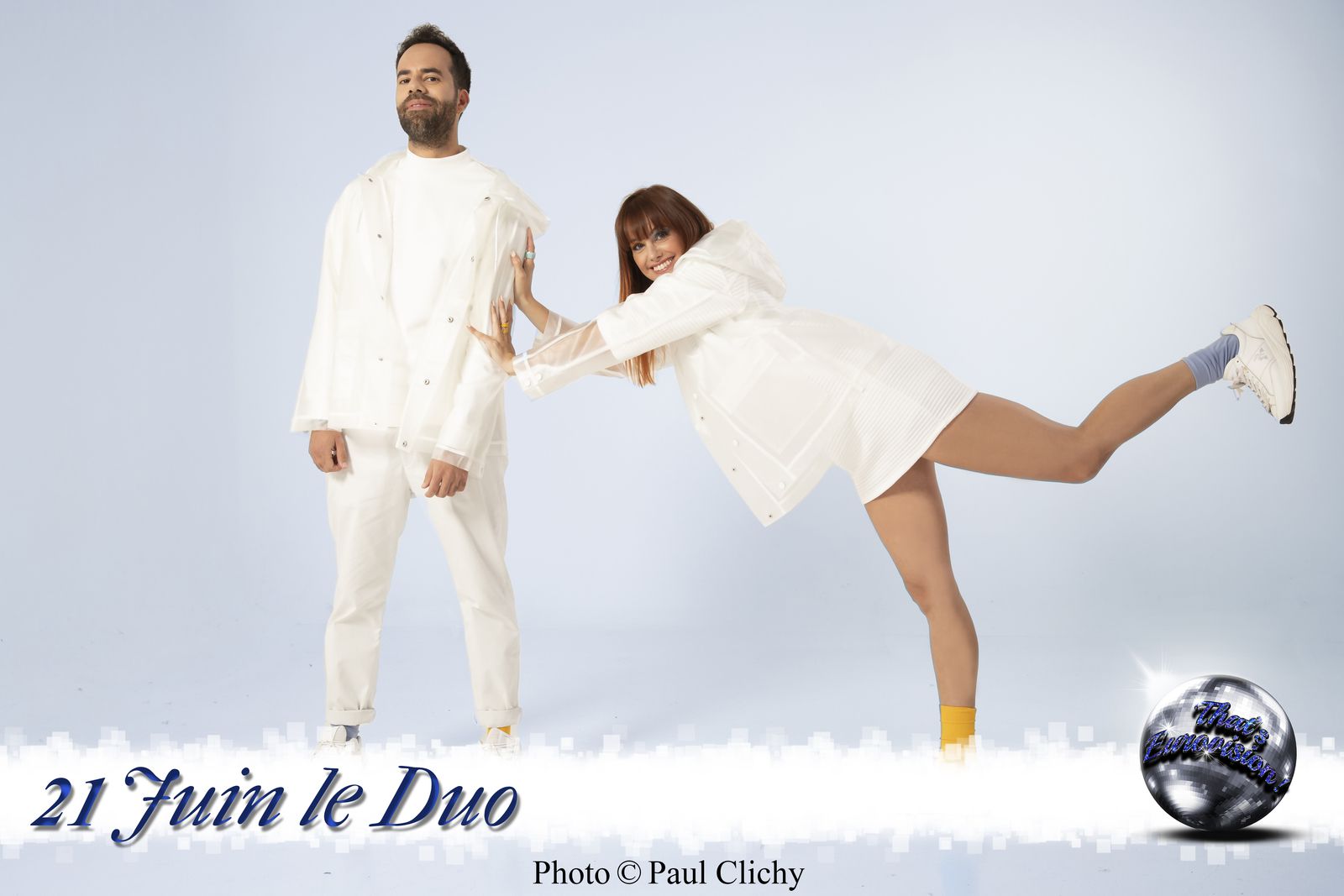 Manon : We already feel blue to think about the end of all that…
Julien : Such an event is like a wedding! We prepare it, we wait for a long time and « THE » moment passes by too quickly.
That's Eurovision ! : Except that, there, you will be able to sing this « Wedding Song » again and again, … While the wedding dress is supposed to be used only once…
Manon : (laughs) yes, we hope for it! This is a unique experience because there is a lot of stakes and a lot of kindliness at the same time.
This is very a real « family » Contest, in wich everything mixes up, nostalgia, frienship, a certain stress too, this is quite special, it's great!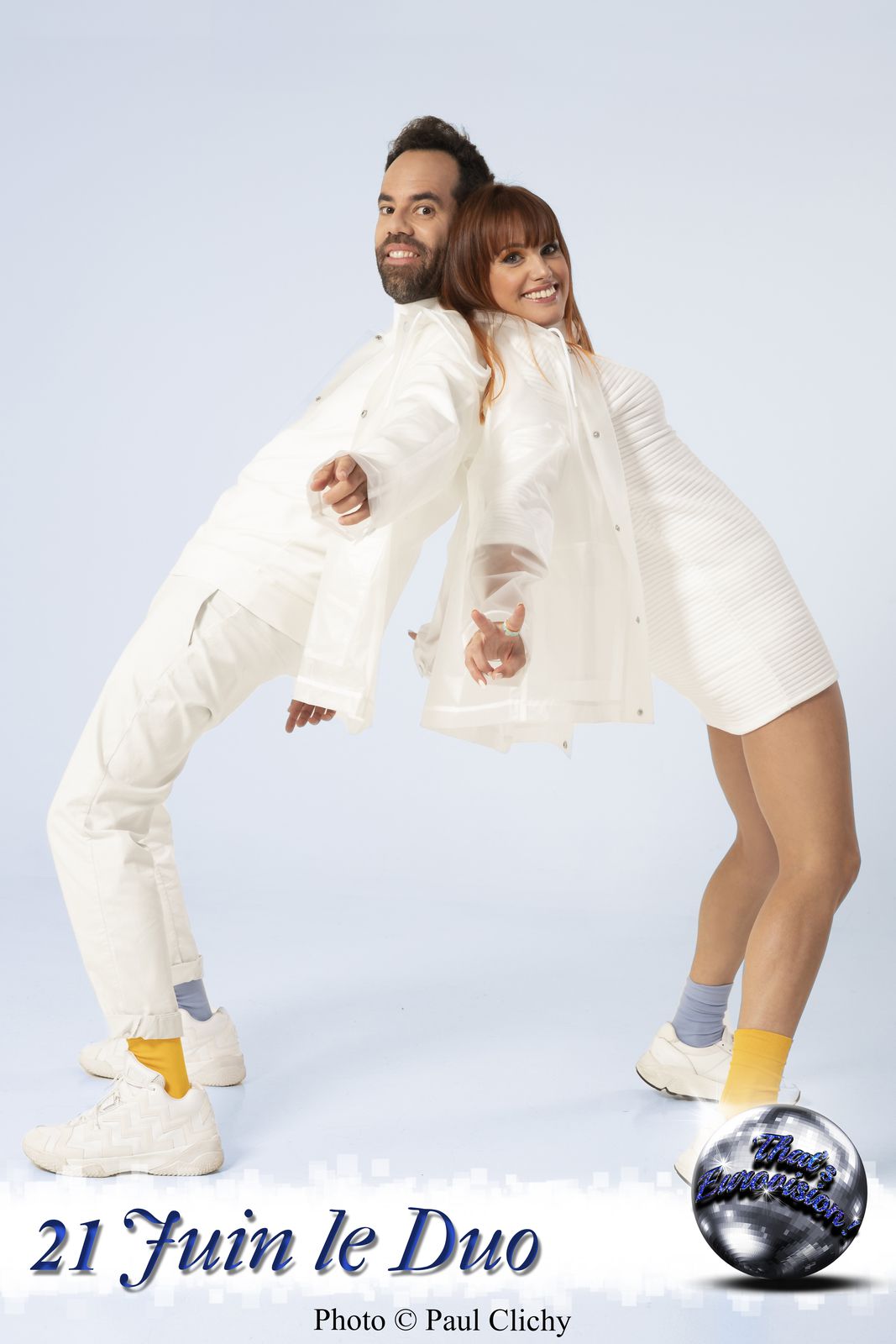 That's Eurovision ! : Eurovision may have bad press, a « corny», « kitsch » image. What is your look upon Eurovision before and now?
Manon : Absolutely, there was this image, I think it's not true anymore since the year when Madame Monsieur took part in it…
Julien : Even before, since the year when Amir participated…
Manon : Since « Destination Eurovision » TV shows began, it gives a better reflection of the new French scene, the sounds we can hear on the radio. We gently begin to head for something really accepted…
Julien : Very representative of what is done in France in terms of music. You see this year, there are very various styles.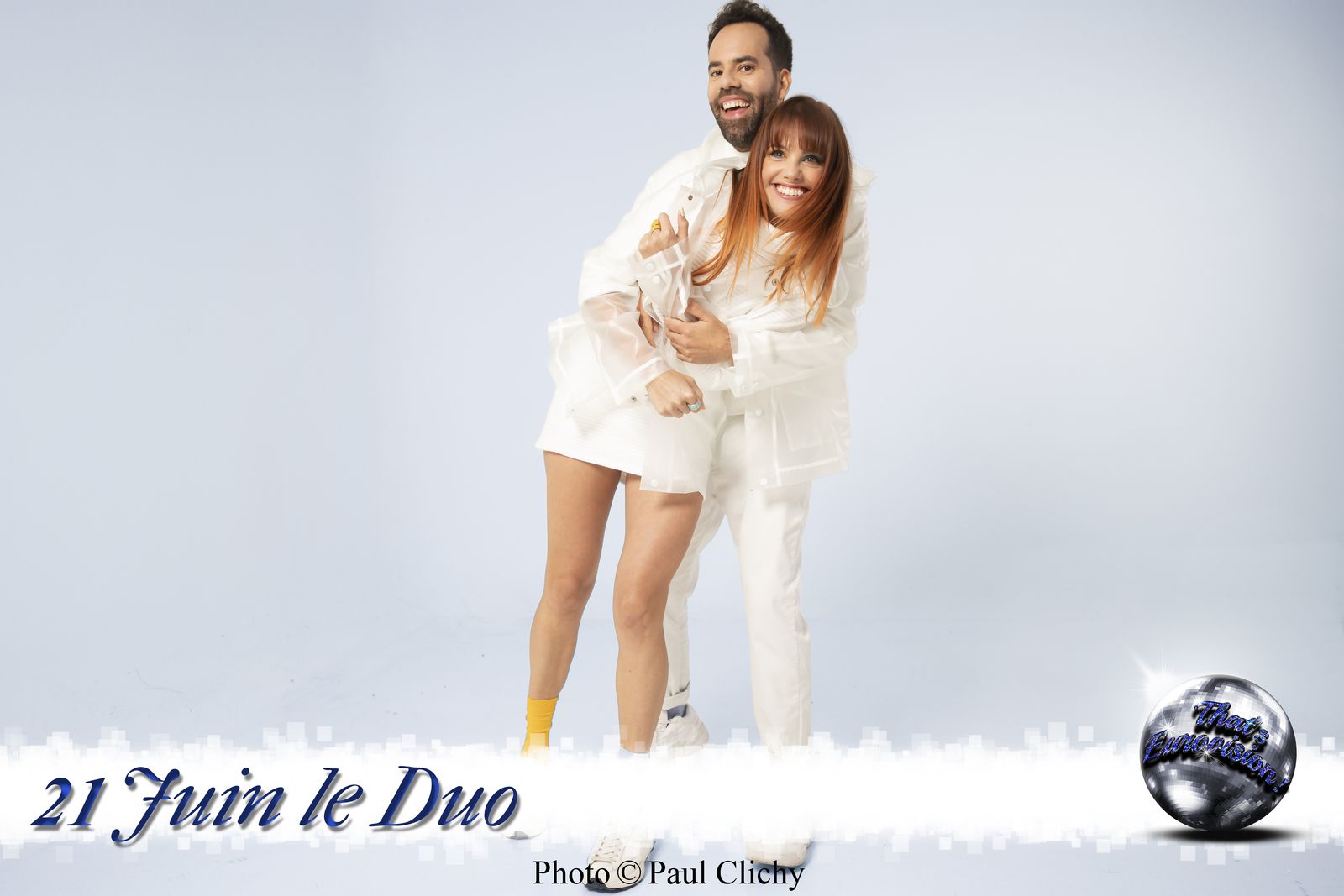 That's Eurovision ! The title of your song is « Peux-tu me dire ? ». Actually… « Peux-tu me dire » (Can you tell me) who wrote this song? How was it born?
Julien : (laughs) This is a song we wrote with Manon, and we also have a co-composer whose name is Jan Orsi, with who we composed a lot of our songs.
We wrote this song when we got back to nature. This is a message of going back to basics, of reconnection to countryside, to environment. This is really something that touched us because we went back to live in La Clusaz last year…
Manon : We had lived in Paris for ten years.
Julien : Manon really realized that climate was changing, that there was less and less insects, and less and less snow… We wanted to talk about it.
Manon : So « Peux-tu me dire ?» came alive in the mountain. With Julien, we talk a lot about couples in our songs, but we feel like doing something else, another creativity, being close to nature : why not sing nature, what surrounds us, but we wanted to keep it « 21 Juin le Duo – style ». That is to say to stand back a lot, not to be moralizing and above all to do this the most positive way possible.
About ecology, with Julien, we are convinced that we must stop this guilty and moralizing outline, we'd rather go towards a reconnection of the people with their planet…
Julien : A bit more fun, a bit more lightness.
Manon : Actually, when we reconnect to the simplest things of life, it becomes logical, there are no longer efforts to be made.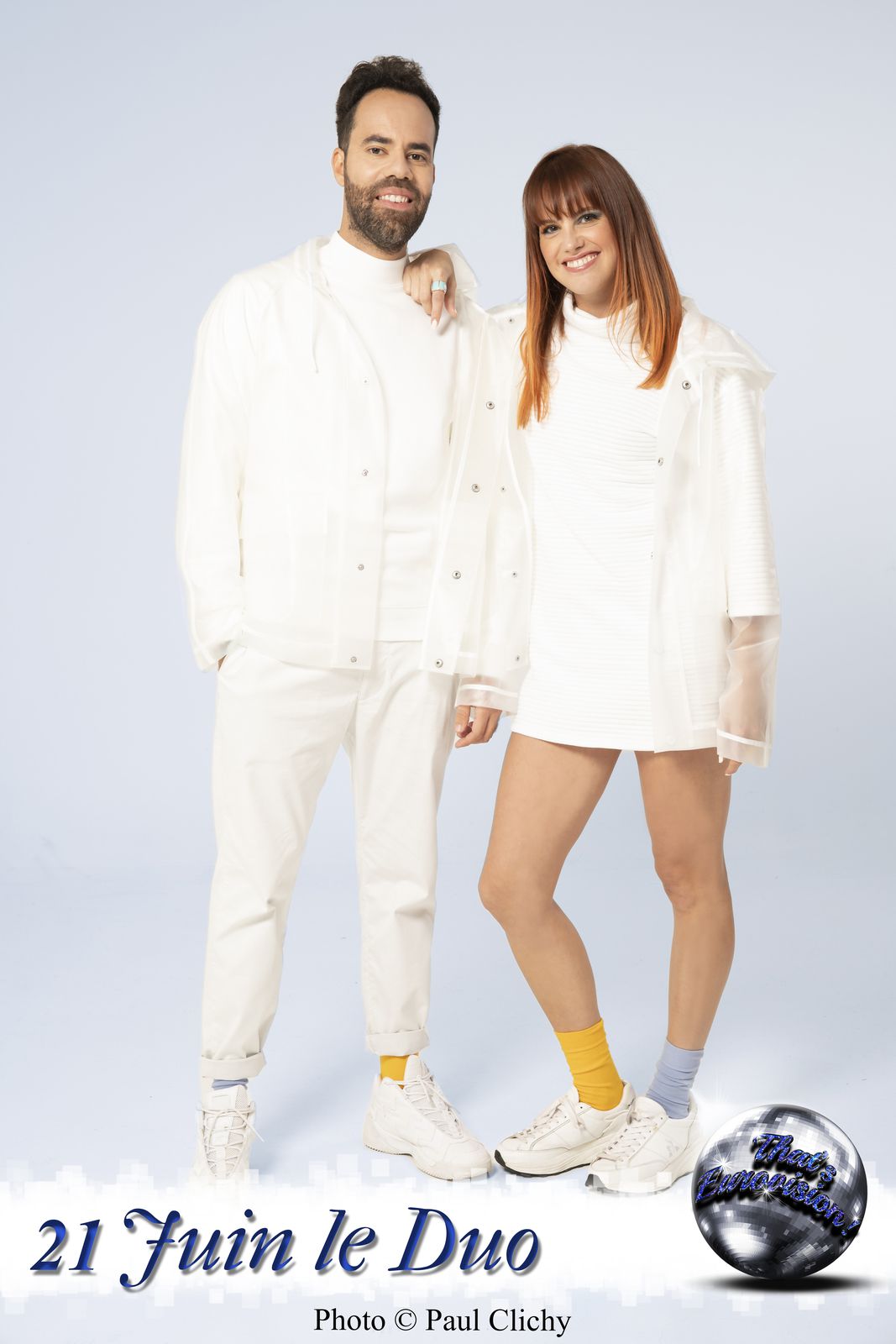 That's Eurovision ! : This harsh confinement period may have accelerated this view on the subject?
Julien : Pretty! It is linked to this approach, to the message we wanted to deliver. This is the song we definetely want to defend in Eurovision.
That's Eurovision ! : Whichever the song we are talking about, « Peux-tu me dire ? », « La Bouche », « Paradise » or « Hello », all yours are in the Eurovision duration format, 3 minutes!!
Julien : That's true!
Manon : Yes, we noticed this with Eurovision. The explanation is quite simple : We keep the scene in mind to compose our songs. We think it would be great to have a chorus the audience can sing, that we create a bridge... our songs are definetely created for the stage, quite short...
Julien : We love quite short and effective songs, easy to remember. Then, on stage, they can be played longer, with percussion sections, we have fun. For the radio, it's better to stay close to 3 minutes actually.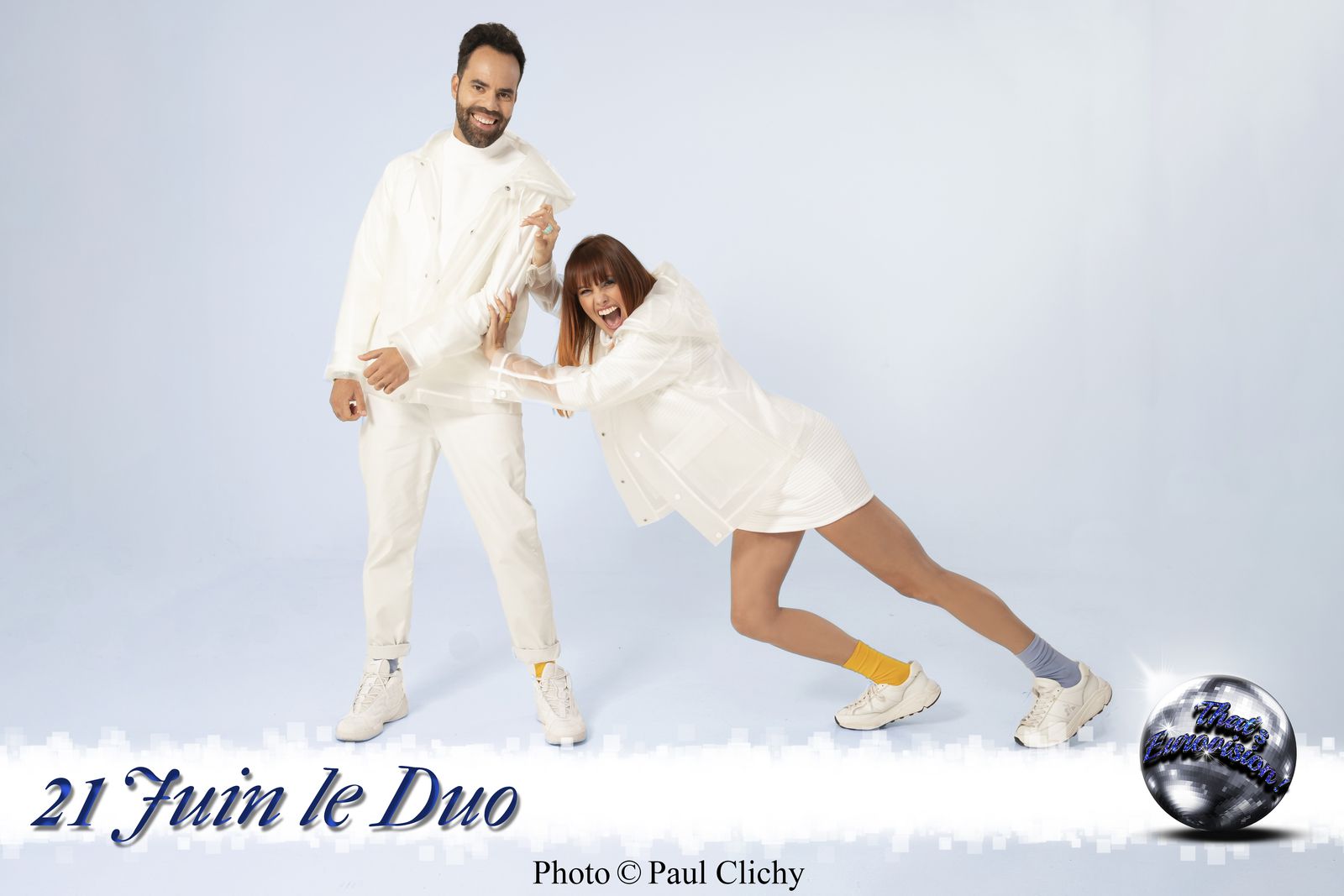 That's Eurovision ! : Have you ever been tempted by Eurovision in the past?
Julien : We thought about it as soon as « Destination Eurovision » began, we applied for it then, we met people from ITV, the production company. This year the project was given to France 2, so we tried again saying to ourselves « let's go to the very end! » (laughs)
That's Eurovision ! : In your video, you can be seen banging on two barrels, apart from the wink to Joelle Ursull (France 1990, 2nd), this is also an opening to different sounds?
Manon : These sounds can easily be played. A wink to the « Stomp », batucada is unifying, definitely. For us, it evokes crowds, sharing...
Julien : It brings energy, we love the percussion in batucada, we also use it in « Hello », in « Paradise », this is something we definitely love. We love to mix ukulele, electro rhythms and batucada percussion as well.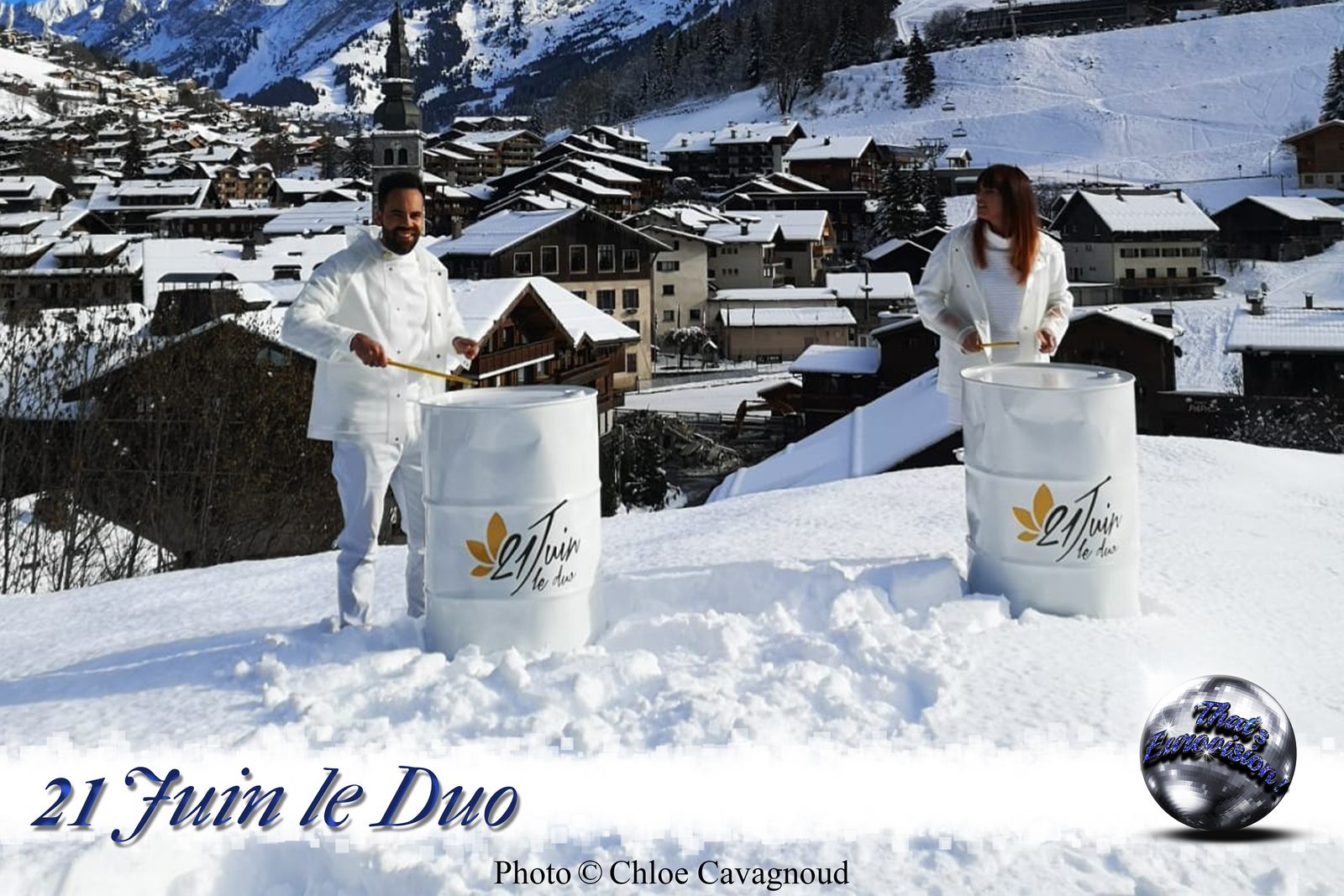 That's Eurovision ! : You both play instruments?
Manon : Julien plays the guitar and the piano and also do the programming. On my side, on stage, I play the pads, that is to say electronic percussion and on the computer. I deal with launching the sequences.
That's Eurovision ! : You are a couple on stage but also in real life aren't you?
Manon : Exactly!
Julien : For 10 years now!
That's Eurovision ! : How is it going? Everything fine?
Julien : (laughs) That's fine, fine yes (laughs), a bit of tension at this very moment because of the stakes...
Manon : All these rehersals, this work, the stakes, pressure, stress...there's no filter between us.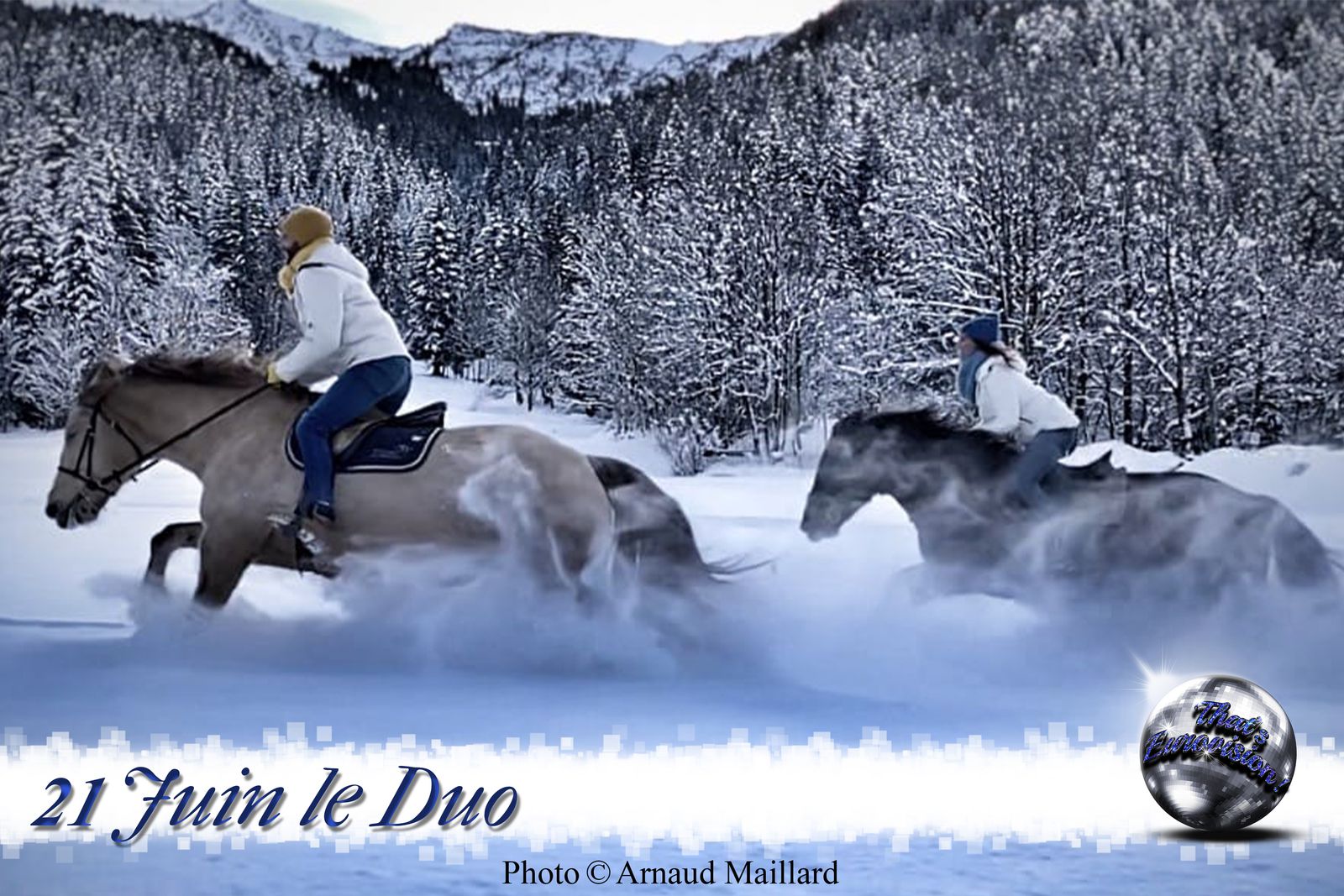 That's Eurovision ! : Actually Manon, the best quality and the biggest fault of Julien?
Manon : Haha !! well...I'm going to begin with the fault...
Julien : Ak ok, you begin with the faults? I thought I had no faults at all?! (laughs)
Manon : In our duet, his biggest fault is also a quality, he is a hard-liner. Sometime we wear ourselves out doing things to be perfect. He is a perfectionist.
For his quality, thanks to this side of his personality, he takes every project as far as he can, in particular theatrically speaking, we spend a lot of time working on our songs and we always come to a successful conclusion, a result we love. he's a mirror!
Julien : Concerning Manon, her biggest fault would be she is stubborn, she's often right... (Manon roars with laughter), I said often, not always! Well, almost always!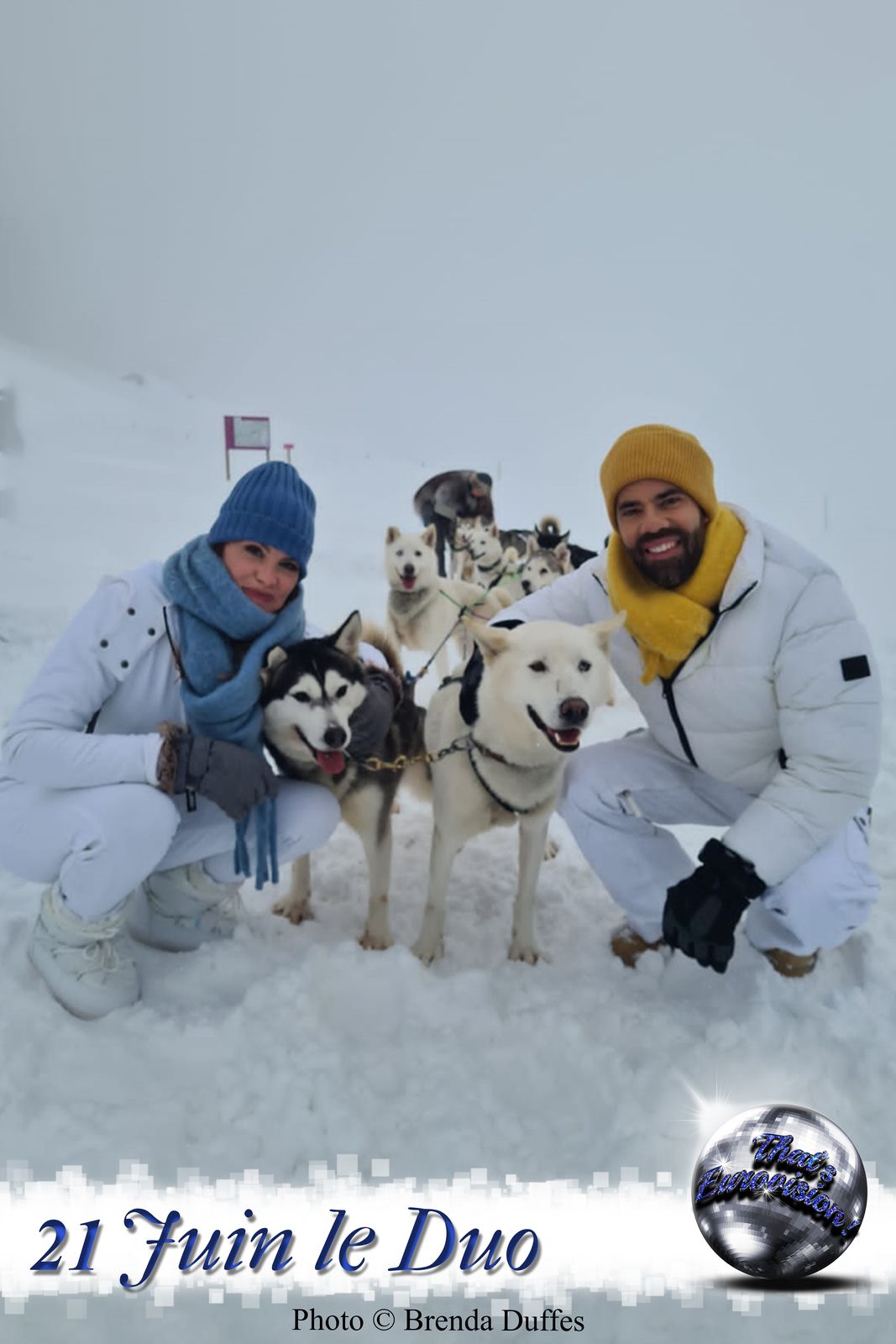 That's Eurovision ! : When not behind a microphone (and not in quarantine), where can we find you?
Julien et Manon : In our mountains! In La Clusaz!
Manon : Our mountains give us so much! Going for a walk with Margotte, our little dog, in the fields, in the mountain... we feel like kings. Actually, she is my parents dog, but she becomes ours because she loves us so much! She is in the video by the way!
Julien : We are fond of hiking. Manon grew up in La Clusaz, I did in a little city of Lorraine. We feel great here, it does us good.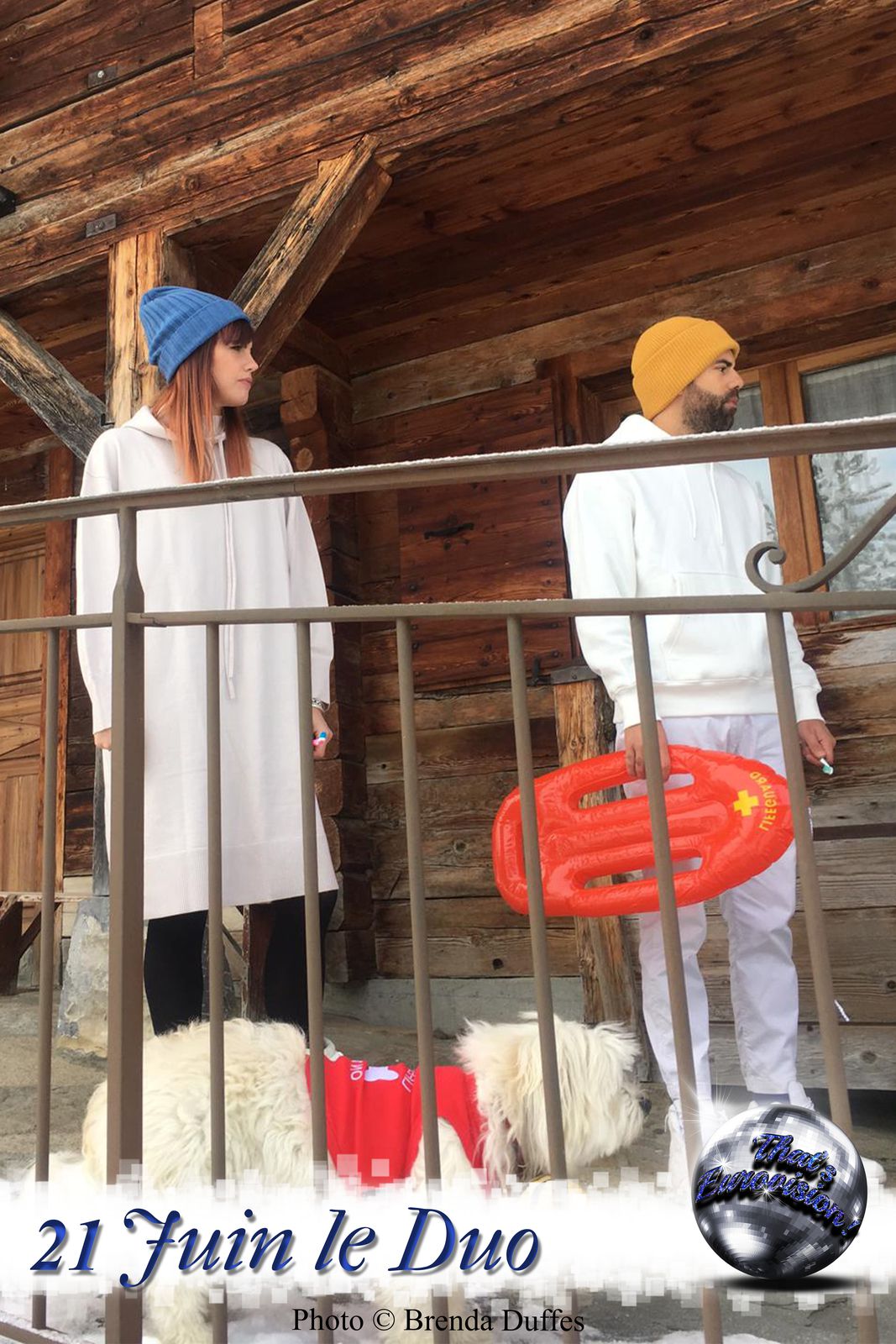 That's Eurovision ! : I was about bringing complaint before the Snowmen Welfare Society... but who is in this snowman??
Julien : (Laughs) His name is Arnaud Maillard, he's an actor and stuntman. This costume weighs more than 30 kilos! You have to be able to wear it, to move in a natural manner, at one point he's even surfing.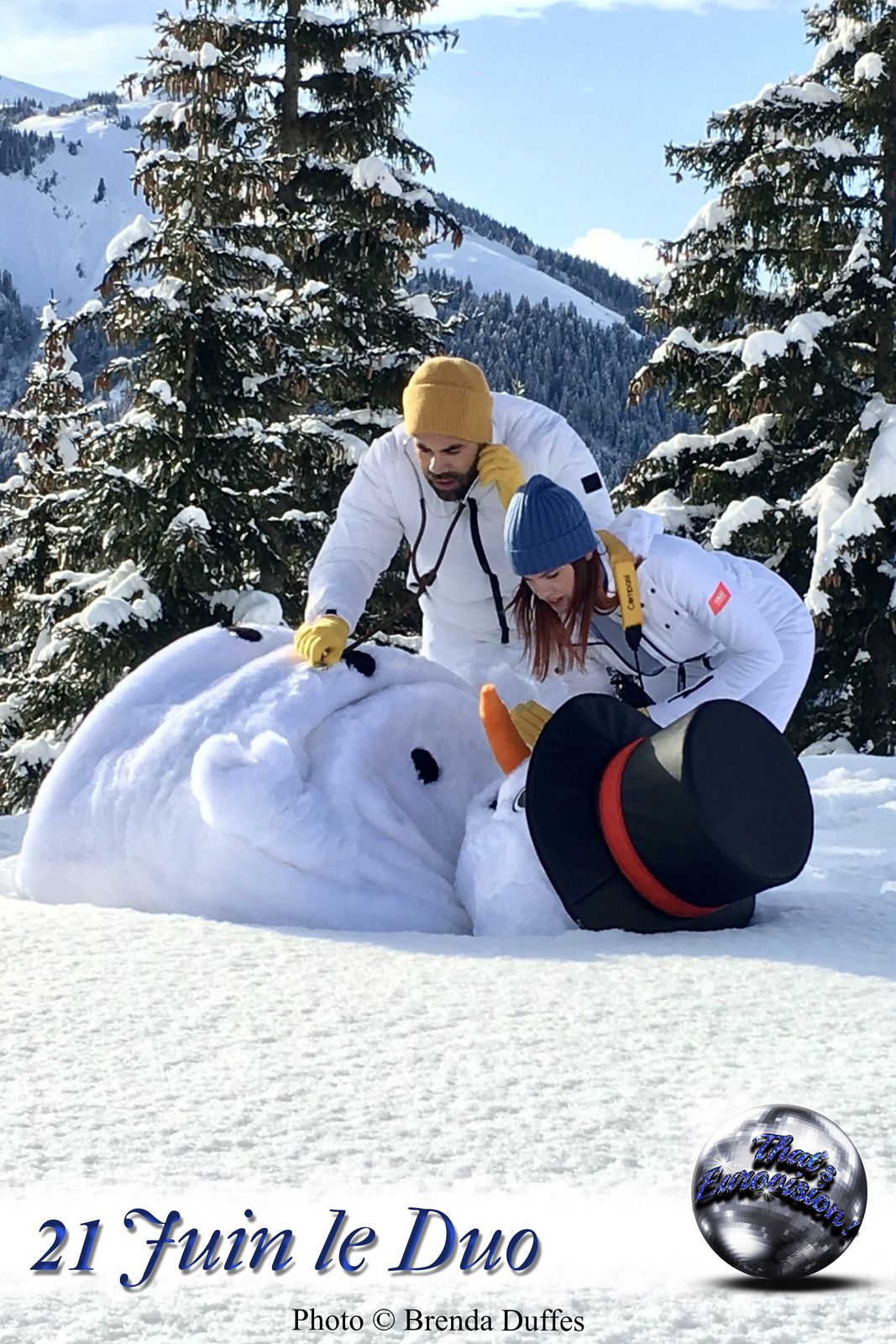 That's Eurovision ! : Getting on the stage of « Eurovision France – c'est vous qui décidez ! » next january 30th, who wil you think of?
Julien : Obviously, we'll think of each other and we'll get connected to each other. I will also think of the moment of our tour with Trois Cafés Gourmands, when we were singing « Hello » on stage, all the audience of the Zenith was singing « Hello », they threw us something like an ball of energy . The audience brings us a lot of strength, there it will be limited.
That's Eurovision ! : Manon, you talked about Madame Monsieur, if I tell you your duet makes me think of them, but also of the electro touch of another duet : Paradis?
Julien : We definetely love electro, we put a little touch of it in our rhythmics.
Manon : I love being compared to others, I think it's a wholesome thing... and especially to Madame Monsieur... I am touched, because I think they are true in what they propose. Their identity has a lot of class, is sober, they are benevolent, well... definitely fair! In addition to this, they are sweeties!
Julien : We undeniably love them!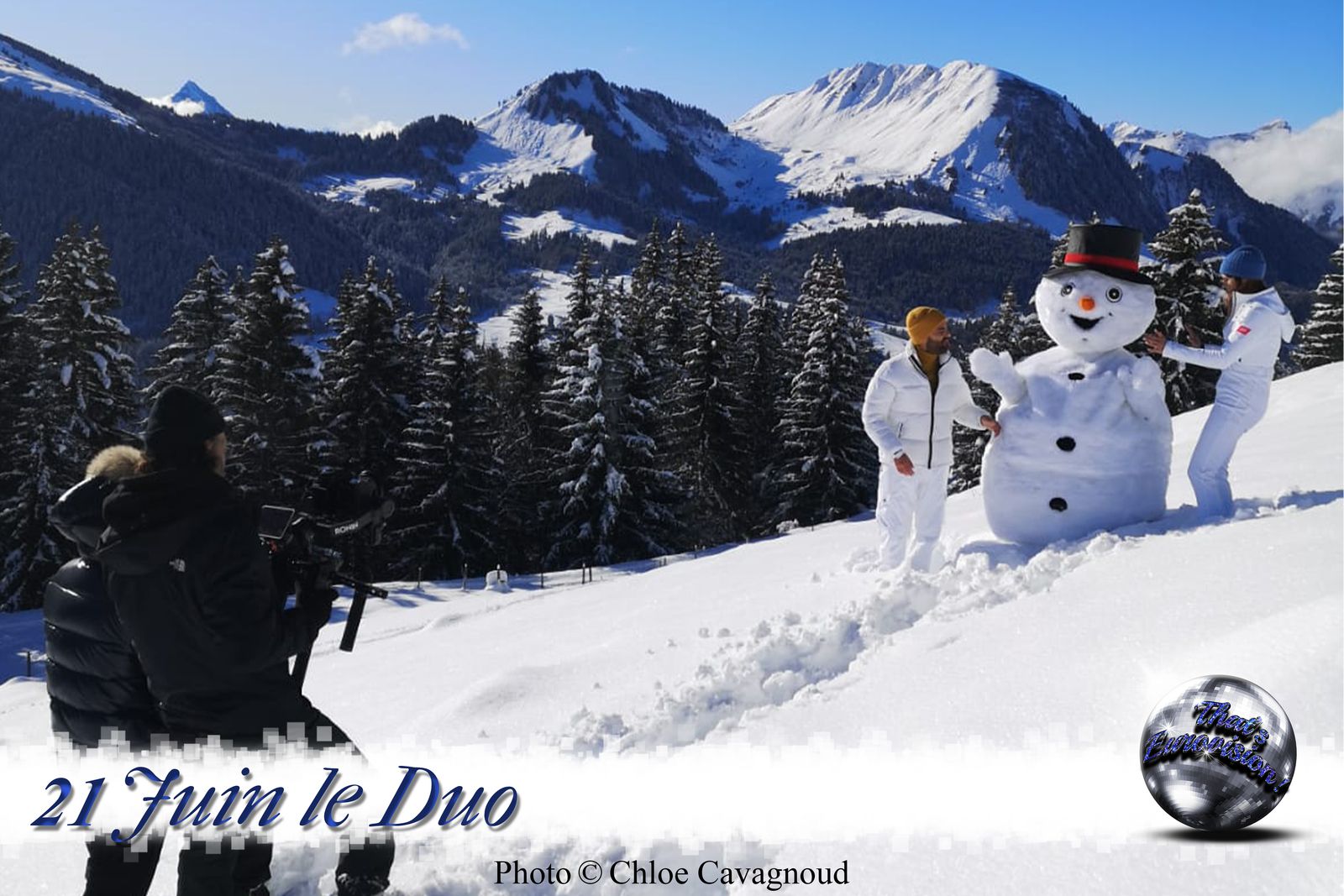 That's Eurovision ! Will there be an album and can we think it will be out on... June 21th 2021?
Manon : We would love to! but June 21th should be a Friday, the day the albums are out, so I think we'll fail. On reflection, an album without any concert when we are in a development phase, is it a good idea? Anyway, we must produce something in 2021. The album is ready, it's nice and hot, waiting in the drawer, we definetely believe in it anyhow.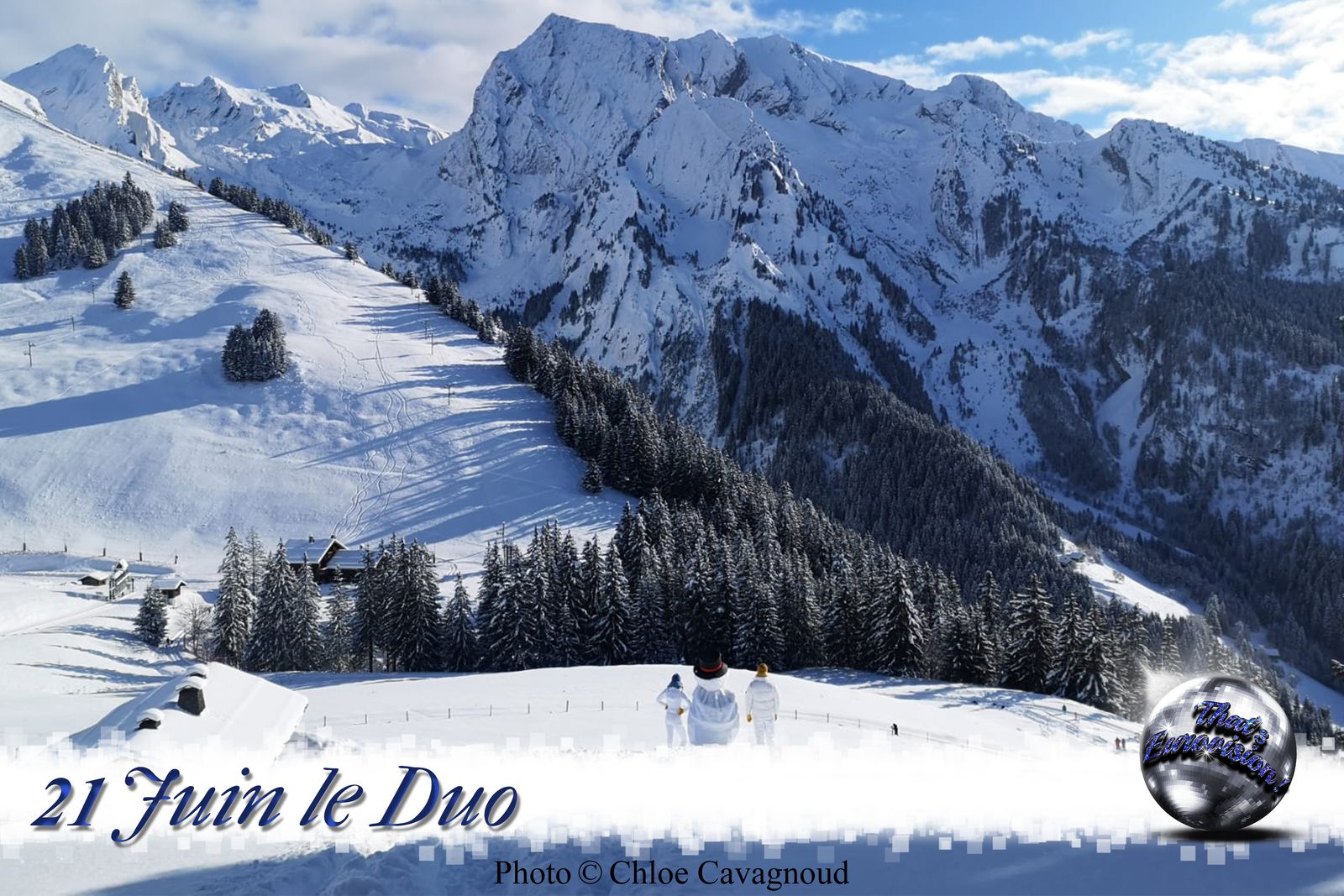 That's Eurovision ! : In this interview, our readers will discover you in a different way, what is the message you want to deliver to them?
Julien : A big thank you to all the readers, to you who bother spending time to discover us. We are glad to carry a positive and enthusiastic message about something that speaks to us, climate change.
Manon : Believe our thank-yous are from the bottom of our hearts. Your messages make us stronger. Perhaps you don't even realise the impact they make on us. Nothing could be more touching than this. So thank you to those who will read this interview, who discover us and get in touch through the social networks.
That's Eurovision ! : Thanks to both of you for spending some of you precious time for this interview. We wish you good luck for the final!
Manon : Thank you!
Julien : With pleasure, thank you!
Présentation graphique : Ludovic PICAVET